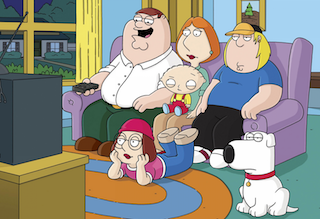 In the sixth episode of its twelfth season Sunday night, Family Guy made a dramatic move that will no doubt change the show in a major way from here on out. In the past, characters on this and other animated shows have suffered all kinds of traumatic injuries and returned the next week without a scratch. For years, South Park killed Kenny in every episode only to have him come back as if nothing had happened the next time. But apparently, when the Griffin family dog Brian was killed by a car in last night's episode, it was the real thing.
Series creator Seth MacFarlane, who voices the character of Brian, along with Peter and Stewie, has so far stayed quiet on the decision to kill off one of the cartoon show's major characters, but executive producer Steve Callaghan spoke to E! online about the move. "We thought it could be a fun way to shake things up," Callaghan said. "As soon as this idea came up, we started talking about what the next couple episodes could be and we got very excited about the way this change will affect the family dynamics and the characters."
The show gave Brian as somber a farewell as anyone could have expected, complete with a black and white montage of his best moments with each of the family members and especially partner-in-crime Stewie. "You've given me a wonderful life. I love you all," he said from the veterinarian table before closing his eyes one last time.
But, also in true Family Guy fashion, by the end of the episode the Griffins had replaced Brian with a new dog, voiced by The Sopranos' Tony Sirico. While the show may be ready to move on from the character, it certainly came as a shock to fans, and no one should be surprised if Brian pops up as a ghost or other supernatural being in future episodes.
Watch Brian's tragic death and farewell below, via Fox:
[photo via Fox]
— —
>> Follow Matt Wilstein (@TheMattWilstein) on Twitter
Have a tip we should know? [email protected]