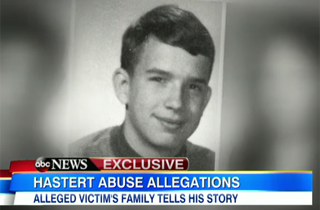 Former GOP House Speaker Dennis Hastert was recently indicted on counts of bank fraud and lying to the FBI after investigators discovered that he'd paid millions of dollars' worth of hush money to an unknown individual to conceal "prior misconduct," generally agreed to as sexual abuse he perpetrated as a high school wrestling coach. Notably, at one point, federal investigators considered adding more of his victims to the official indictment.
Jolene Burdge told ABC that her deceased brother, Steve Reinbolt, was one of them.
According to her, Steve had been Yorkville High's equipment manager, and in a 1970 yearbook, Hastert referred to him as his "great, right hand man". He'd also taken him on trips to the Bahamas and, as Jolene noted, had "plenty of opportunities to be alone with Steve".
When her brother came out to her years later, he admitted that his first same-sex experience was with Hastert. Jolene asked why he'd never reported it, and "he just turned around and kind of looked at me and said, 'Who is ever going to believe me?'"
"He took his belief in himself and his kind of right to be a normal person," Jolene said, saying that Hastert "damaged Steve I think more than any of us will ever know."
Steve died of AIDS in 1995, and Jolene recalled that for some messed up reason, Hastert had the audacity to show up to his funeral:
"I was just there just trying to bite my tongue thinking that blood was coming out because I was just… So after he had gone through the line I followed him out into the parking lot of the funeral home," Jolene said. "I said, 'I want to know why you did what you did to my brother.' And he just stood there and stared at me. He didn't say, 'What are you talking about?' you know, [or], 'What? I don't know what you're talking about.' He just stood there and stared at me.

"Then I just continued to say, 'I want you to know your secret didn't die in there with my brother. And I want you to remember that I'm out here and that I know.' And again, he just stood there and he did not say a word."

Hastert got in his car and drove away. Jolene said Hastert's non-response "said everything."
Jolene tried to get her brother's story known for years, even contacting ABC at one point, but it was only when she was approached by the FBI that she felt at peace.
"I feel vindicated and that Steve's vindicated, that Mr. Hastert can't pull this wool over everybody's eyes," she told ABC. "Finally the truth comes out."
Watch below via ABC:

ABC News Videos | ABC Entertainment News
[Image via screenshot]
—
>> Follow Tina Nguyen (@Tina_Nguyen) on Twitter
Have a tip we should know? tips@mediaite.com