Family Pulls Daughter from School After 'Hands Up Don't Shoot' Included in Event
Family Pulls Daughter from School over 'Hands Up Don't Shoot'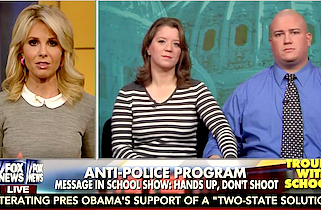 Two parents told Fox & Friends Thursday morning that a Black History Month event at their daughter's Washington, D.C. school turned "anti-cop" when an act addressed Ferguson, to the point that they pulled their daughter.
Their daughter was singing in the choir (featuring a Motown medley, natch), when mother Rebecca said she noticed the inclusion of slogans from the Ferguson and Eric Garner protests.

"Everywhere that we looked were high school students wearing shirts that said 'black lives matter,' 'I can't breathe,'" she said, in the clip first spotted by TPM. "As I was flipping through the program it had 'hands up don't shoot.' It had quite a few different acts that were what I was worried were going to be quite controversial.
"When the first act began, students start coming out on stage saying, 'I'm from Ferguson, Missouri. I was told to put my hands up. I did and I was shot seven times. My name is Michael Brown.' I immediately realized that this was not something that was a good idea for my daughter to be seeing."
Her husband Charles, a deputy sheriff, said the family had no warning of the content of the program.
"My daughter had serious questions as to 'Why do cops shoot black people? Why do cops shoot good people? If they do that, does that make them a bad cop? Daddy, you're a cop, does that make you a bad cop?'" Charles said. "It took me off-guard. We really had to have a discussion with our daughter in great detail about current events we should never have had."
"Really having a discussion with your daughter in great detail about current events" was probably the exact point of the program.
Watch the clip below, via Fox News:
[Image via screengrab]
——
>> Follow Evan McMurry (@evanmcmurry) on Twitter
Have a tip we should know? tips@mediaite.com