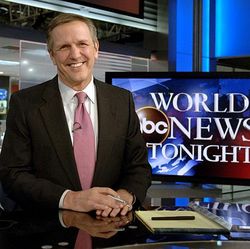 Tonight is Charlie Gibson's last broadcast as the anchor of ABC World News. Even though it's going quietly, it's the end of an era. When Peter Jennings revealed he was stepping down from the anchor chair, he was the last of the Big Three to do so — Dan Rather and Tom Brokaw had both left their posts the previous year, and Jennings signaled the end of their shared era but it was not yet apparent that the primacy of the evening news was an era that had passed. It was only in the bumpy succession that it became clear that keeping that half-hour of news relevant and essential viewing for millions of Americans — then and still the biggest combined audience for news around — was going to be a challenge. NBC had had a smooth transition from Brokaw to Brian Williams, and CBS had stablilized with Bob Schieffer after Dan Rather's abrupt departure.
At ABC, though, there was turmoil. After Jennings stepped down in April 2005, and then after his death in August of that year, there was no succession plan and ABC News president David Westin dragged his feet on making a decision, even though Gibson had been the reliable fill-in for Jennings. Finally, in December 2005, Westin decided to make Elizabeth Vargas and Bob Woodruff co-anchors of World News. But in January 2006 on a trip to Iraq, Woodruff was gravely injured, scuttling that plan. After some more turmoil and a very wobbly tenure for all concerned, including Gibson's on-air partner at GMA, Diane Sawyer, Gibson was officially made the anchor of ABC World News (then still "World News Tonight") and took over the chair.
Why must a discussion of Gibson's tenure always begin with that wobbly start? Because of what came after it: Stability. Charlie Gibson in that anchor chair was a steady, dependable rock — exactly what was needed at World News after such a rough ride, and really the only thing that could have kept things on an even keel in the 6:30 p.m. hour. Then, steadily and surely, he started gaining on NBC.
The evening news glare had turned to Katie Couric taking over at CBS in September 2006, and that upheaval over there represented a chance for Gibson and his team to entrench and slowly gain. Which is exactly what they did, creeping up against then-leader NBC and giving Williams & Co. a real run for their money, tussling for first throughout 2007 and ending that year neck and neck. Though NBC eventually pulled back ahead, Gibson had surprised people: Slow and steady could, it seemed, win the race.
Gibson has shown that slow and steadiness throughout his tenure — and now that he's going, we realize that that is what is going with him. Eric Deggans today called him "the last old-school TV anchorman," and while I'm not quite sure that's correct — whatever his extracurriculars, Brian Williams is still very rooted in that tradition, and I think Diane Sawyer is as well (and also let's not forget that Brokaw started at the Today show, too) — Gibson is the last one who seems to have just been an anchorman. He didn't blog. He rarely gave interviews. He didn't do the late-show circuit. He wasn't interested in doing anything extra, unless that 'extra' meant, say, moderating a primary debate.
Deggans seems to think that's a good thing, rather unkindly calling Williams a "frustrated stand up comic and calling Couric a "fixture" in "tabloid news or the online world" which makes the first sound like her fault and the second sound like it's just as tawdry. I have written in the past that I thought Gibson could have and should have engaged with his audience more, and in the hindsight looking back on this decade it's hard to argue that limiting yourself to just one platform was a winning — or visionary — strategy. But to Gibson, his half-hour was the only half-hour that mattered, and spoke for itself. And, surely, steadily, reliably, he led it for these past three and a half years — a short tenure for an anchorman, but for the guy who held it all together when it was about to fall apart, it was long enough.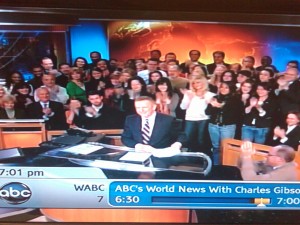 Yesterday on Office Hours, ABC investigative reporter Brian Ross reflected on Gibson and the World News he inherited and came to represent. "He was a reporter's reporter – he knew what we went through to get our stories," said Ross. "I tell you, I've been blessed since I came here from NBC 15 years ago to work first with Peter Jennings then Bob and Elizabeth, Charlie and now Diane – you think you work hard until you're around these people. It's just a reminder, the best people are the hardest workers." Said Ross simply of Gibson's departure: "We're gonna miss him a lot."
That seemed to be the theme tonight as his final episode drew to a close, and a video rolled with well-wishes from a whole host of characters from people who he'd interviewed, famous people who would miss him at 6:30, from his competitors Williams and Couric, from President Barack Obama, and, oddly, from a few muppets and Kermit The Frog in a nod to silliness that Gibson rarely allowed himself. And then the camera pulled back to show Gibson surrounded by his staffers applauding. Gibson beamed, turned to face them, clapped back to them, beamed some more, shuffled the papers on his desk, and looked down, acknowledging but not grandstanding, because the broadcast was over and that was how he did his job.
And then it was over, and there was a commercial for Diane Sawyer, leading ABC World News on Monday, because the news doesn't wait and that's how it goes. And it will probably be a seamless transition, and Sawyer will lead the broadcast into yet another new era, into the next century with its whole new set of rules.
But looking back, there's no way she — or any of them — could have done it without Gibson, steady and calm at the center, an anchor in the true sense of the word.

Charlie Gibson leaves ABC News today as the last old school network TV anchorman [The Feed]
Charlie Gibson's "World News" & ABC News Career Remembered [HuffPo]
Four Little Words That Can Return Charlie Gibson To Ratings Victory [ETP]
Have a tip we should know? [email protected]