Fareed Zakaria Defends Mitt Romney: 'Poor People' Comment Was Taken Out Of Context
Fareed Zakaria Defends Romney: 'Poor People' Comment Was Taken Out Of Context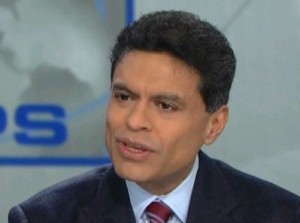 Today is a glorious day, for I have discovered something so rare it is almost non-existent in today's media world: giving context to things. On his CNN show today, Fareed Zakaria discussed Mitt Romney's unfortunate comments about the poor, which have done nothing to help his public image, but Zakaria actually defended Romney. He blamed the media for taking Romney's comments out of context to get the juicy soundbite of the former businessman seemingly ignoring the plight of poor people.
RELATED: Ron Paul Defends Mitt Romney To Piers Morgan, Says He Isn't 'Cold And Heartless'
Peggy Noonan expressed some concern about the way the Republican race has gone down so far, particularly the "clown car Indy 500 aspect." But she thought all the debates were helping the candidates be better prepared for going up against President Obama in the fall, though she did concede only half of the questions being asked in these debates have been serious. However, Noonan did note that for all the "clown car" antics of the primary race so far, it has had no net effect on Obama's approval numbers.
Zakaria brought up Romney's cringeworthy statement last week that he's "not concerned about the very poor," and actually defended Romney against people going after him for that comment.
"I feel as though in some ways the guy can't get a break because if you look at the previous gaffe, where he talked about 'I like to fire people,' he wasn't talking about firing people, he was talking about firing insurance companies, it's absolutely clear.

"And here is 'I'm not so concerned about the poor, they have a safety net. If it has holes, I'll repair it.' I feel as though the media here has sort of said, 'Yes, yes, but if we take this entirely out of context, it really sounds like he's being very mean to the poor.'"
RELATED: Romney To Hannity: 'I Misspoke' About Not Being Concerned About The Very Poor
David Remnick agreed, but noted that Romney has not spent a lot of time on the campaign trail talking about poverty. Chrystia Freeland added that Romney needs to be able to persuade voters that his business experience should be a more important factor in their decisions than his inability to connect with them on a personal level.
Watch the video below, courtesy of CNN:
Have a tip we should know? tips@mediaite.com
Josh Feldman - Senior Editor