Fareed Zakaria: Pakistan Trying To Mend Rift By Allowing U.S. Interrogation Of Bin Laden's Wives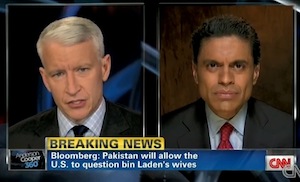 Bloomberg is reporting that Pakistan will allow U.S. interrogation of Osama bin Laden's wives taken into custody after the U.S. mission in Abbottabad that resulted in the killing of the al Qaeda. This came up last night on CNN's AC 360 and guest Fareed Zakaria told host Anderson Cooper that this was perhaps a way for Pakistan to diminish the deep embarrassment of having bin Laden ostensibly caught hiding in plain sight in their country.
Writing for Bloomberg, Viola Gienger and Haris Anwar report:
The Obama administration expects to get access to the women soon, based on a response from the Pakistani government, a U.S. official said yesterday on condition of anonymity. The specific timing of the access wasn't set, the official said.

The decision followed verbal skirmishing between the two countries. Pakistani officials have said that the U.S. should have informed Pakistan of the operation in advance. U.S. officials have questioned how much Pakistani authorities knew about bin Laden's presence in their country.

The Obama administration said yesterday that it wouldn't apologize for entering Pakistan to raid bin Laden's compound, as the South Asian country's prime minister tried to counter domestic criticism over the military's failure to detect and stop the U.S. attack.
Zakaria and Cooper discussed the political impact of this decision and Zakaria suggested that Pakistan is in much greater need of normalized relations with the U.S. because of the financial support that they receive. Watch the clip below, courtesy of CNN:
Have a tip we should know? tips@mediaite.com