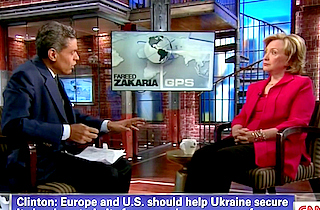 CNN's Fareed Zakaria asked former Secretary of State Hillary Clinton Sunday morning if, as she claimed in her book, the "reset" with Russia worked initially, when exactly did it stop working?
"I was among the most skeptical of Putin during the time that I was there, in part because I thought he had never given up on his vision of bringing mother Russia back to the forefront," Clinton said. "So when he announced in the fall of 2011 that he would be changing positions with Medvedev, I knew that he would be more difficult to deal with. He had been always the power behind Medvedev, but he had given Medvedev a lot of independence to make the reset a success."
RELATED: Pelosi: 'Insecure' Putin Will Do He Wants No Matter Who's President in U.S.
"I saw that firsthand with respect to the parliamentary elections in Russia, because they were filled with irregularities and Russian people poured out into the streets to protest, and I, as secretary of state, said the Russians deserved better," Clinton continued. "Putin attacked me personally because is he very worried about any kind of internal dissent."
Clinton reiterated her call for a stronger response from Europe.
"If the United States and Europe don't present a united front, I think Putin's the kind of man who will go as far as he can get away with," Clinton said. "I think he is still smart enough and cautious enough to be pushed back, but there has to be a push in order to make that happen."
Watch the clip below, via CNN:
[Image via screengrab]
——
>> Follow Evan McMurry (@evanmcmurry) on Twitter
Have a tip we should know? tips@mediaite.com