FBI Ad Campaign That Led To Whitey Bulger Capture Was Featured Last Week On Fox News And MSNBC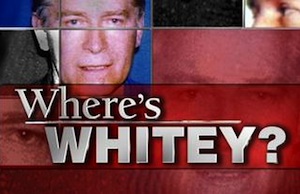 Early this morning, news broke that the FBI had captured Whitey Bulger, the infamous gangster who'd been on the run for 16 years and inspired Jack Nicholson's character in The Departed (God, I hope that means he actually liked to throw handfulls of of cocaine at hookers and bring big dildos to movie theaters!).
How did the FBI finally catch him, you ask? Well, they used an interesting plan of paying for television ads to air in front of women's shows like The View in the hopes that a lady would recognize Bulger's girlfriend from a beauty salon. Sounds outlandishly crazy, right? Well, Bill O'Reilly (or more to the point, his guest) reasonably thought so. And Rachel Maddow even "celebrated" the very campaign as "the best new thing in the world today."
The folks over at TV Newser were the first to note their coverage and we're delighted they did. Now that we have our awesome future knowledge, watching O'Reilly guest Howie Carr smugly mock the FBI's ads is kind of hilarious, in retrospect. At the time, we must admit, we thought O'Reilly's guest made good points and agreed with Ms. Maddow's assertion that it really was "the best new thing in the world today."
Who's stupid for spending tons of money buying ad space on The Ellen DeGeneres Show now, huh?
Watch the Maddow's celebration of the campaign clip from Monday and the O'Reillys cornful clip from last night below:
Note- this post has been updated slightly for tone since it was originally published
Have a tip we should know? tips@mediaite.com