FBI Director: Hillary Clinton Wasn't 'Sophisticated Enough' to Understand Classified Markings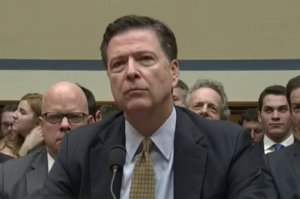 FBI Director James Comey said during his testimony before Congress Thursday that he believed former Secretary of State Hillary Clinton may not have been "sophisticated enough" to understand what classified markings on her emails meant.
Republican Florida Congressman Ron DeSantis asked Comey about the information that was marked classified on Clinton's email sever. "That information you found, would somebody sophisticated in those matters, should this have been obvious, that was very sensitive information?
Comey responded that they would have recognized it was. But a few minutes later, he cast doubt on whether or not Clinton actually qualified as "sophisticated" in the matter.
"I just want to take one of your assumptions about 'sophistication,'" Comey said. "I don't think our investigation established she was particularly sophisticated with respect to classified information and the levels and treatment."
"Isn't she an original classification authority though?" asked a stunned DeSantis.
"Yes, sir, yes, sir," Comey responded.
"Good grief," DeSantis said, shaking his head.
Comey brought his statement twenty minutes later, referring to "this question about sophistication that came up earlier, whether she was actually sophisticated enough to understand what a 'c' in parentheses means."
"You say the former Secretary of State is not sophisticated enough to understand a classified marking? That's a huge statement," said North Carolina Republican Mark Meadows.
"That's not what I'm saying," Comey insisted. "I think it's possible– possible– that she didn't understand what a 'c' meant when she saw it in the body of an e-mail like that."
"After years in the Senate and Secretary of State? I mean, that's hard for me and the American people to believe, Director Comey," Meadows said. "Wouldn't a reasonable person think that someone who has the highest job of handling classified information understand that?"
"I think that's a conclusion a reasonable person would draw," he said.
Watch the exchange above, via CNN.
[Image via screengrab]
——
>>Follow Alex Griswold (@HashtagGriswold) on Twitter
Have a tip we should know? tips@mediaite.com