FBI Director Mueller Defends Investigation But Not Prosecution Of Fox Reporter James Rosen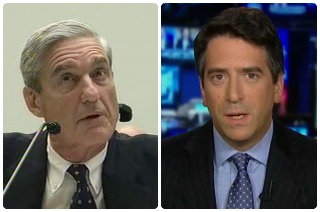 During a House Judiciary Committee hearing on Thursday, FBI Director Robert Mueller answered pointed questions by Rep. Bob Goodlatte (R-VA) relating to the Department of Justice's decision to investigate but not prosecute Fox News Channel reporter James Rosen. Muller said that he was not familiar with the details of that case. However, he said that it is not uncommon for an individual to be named as a target of investigation but never be prosecuted.

Goodlatte asked Mueller if it was standard for the target of a criminal investigation for which enough probable cause has been presented to justify a search warrant on their personal information to not result in a prosecution. "Wasn't prosecution of that target the objective?" Goodlatte asked.
RELATED: DOJ Document Reveals Fox News Reporter James Rosen Wanted To Impact U.S. Foreign Policy
"No," Mueller replied after a prolonged pause. "Often in search warrants or affidavits in support of search warrants, there are occasions where a person will be mentioned as having capability, but there will be no discussion or anticipation of prosecution."
Goodlatte asked why, if there was never the intent to prosecute, that Rosen was named as a potential flight risk. Mueller replied that he was not familiar with the details of that particular investigation, but he noted that "long-standing" protocols were observed in getting approval for the DOJ action against Rosen.
"To the extent that there are tweaks that need to be done, we are happy to abide by those tweaks," he concluded.
UPDATE: later in the hearing, Mueller testified that he "did briefly review the affidavit when the issue arose" relating to the investigation or Rosen.
Watch the clip below via C-SPAN 3:
> >Follow Noah Rothman (@NoahCRothman) on Twitter
Have a tip we should know? tips@mediaite.com