FBI Director Mueller: NSA Programs 'Could Have Derailed' Sept 11, 2001 Plot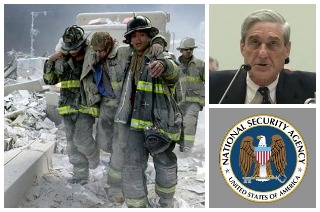 During testimony before a House Judiciary Committee hearing on Thursday, FBI Director Robert Mueller was asked why he thought the National Security Agency's monitoring of all Americans communications were necessary programs. Mueller testified that these NSA programs, had they existed before the events of September 11, 2001, could have either disrupted or even prevented those attacks.

Rep. John Conyers (D-MI) said that many members of the Congress remain unconvinced that the NSA's sweeping communications monitoring programs are performing a "legitimate legal protective service."
RELATED: NSA Director: 'Dozens' Of Terrorist Plots Thwarted By Snooping Programs
Mueller said he had to go back to the events of September 11, 2001 to explain why the programs were critical.
"Before 9/11, there was an individual by the name of Khalid al- Mihdhar who came to be one of the principle hijackers," Mueller began. "He was being tracked by the intelligence agencies in the Far East. They lost track of him."
"At the same time, the intelligence agencies had identified an Al Qaeda safe house in Yemen," he continued. "They understood that that Al Qaeda safe house had a telephone number, but they could not know who was calling into that particular – that particular safe house."
Mueller noted that, after 9/11, they discovered that the person calling into that safe house was al- Mihdhar using a line in San Diego. "If we had had this program in place at the time, we would have been able to identify that particular telephone number in San Diego," Mueller added.
The 9/11 Commission itself indicate that investigations or interrogations of al- Mihdhar once he was identified could have yielded evidence of connections to other participants in the 9/11 plot. The simple fact of their detention could have derailed the plan. In any case, the opportunity was not there.
Watch the clip below via C-SPAN 3:
> >Follow Noah Rothman (@NoahCRothman) on Twitter
Have a tip we should know? [email protected]