FBN Debate Delivers 13.5 Million Viewers, Beats 2015 Super Bowl Livestream Record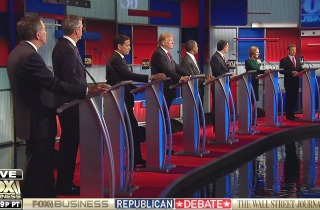 More people live-streamed the Republican party's fourth debate on the Fox Business Network than NBC's 2015 Super Bowl.
According to Akamai, concurrent live streams of the FBN GOP debate peaked at 1.4M, making it the most watched live-streaming primary event in history. The 2015 Super Bowl live stream offered by NBC garnered 1.3M concurrent views back in February, whereas CNN's GOP debate in September peaked at 921K concurrent views.
Nielsen Media Research reports that 13.5M total viewers tuned into Tuesday's debate, making it the most-watched program in FBN's eight-year history. Of these, 3.7M were from the key A25-54 demo.
The broadcast falls just behind the CNBC GOP debate, which pulled in 14M total viewers in October. Fox News broke the debate ratings record back in August with 24M. CNN followed suit with just under 23M in September
UPDATE–2:06 p.m. ET: Mediaite obtained the following internal email from Roger Ailes, Chairman and CEO of Fox News, congratulating his staff:
First, my congratulations to the employees of the Fox Business Network. The debate last night was excellent and showcased FBN as a world class financial network. Every one of our team leaders accomplished our goal of presenting a serious, meaningful debate while holding the audience. Our debate hosts/moderators all did a phenomenal job.

I'd also like to thank the employees of the Fox News Channel for providing fabulous support to the FBN folks and helping to pull off a night of great success. We were widely praised, and correctly so, for the Fox News Channel debate in August, but people have come to expect excellence from Fox News. It may have been a surprise to many what I've known all along–that FBN is no longer an upstart, but rather a full blown powerful competitor in the business news field. I simply cannot mention by name everybody involved, but Bill Shine, Brian Jones, Jay Wallace, and John Moody met with me throughout the process and did one of the most professional jobs I've ever seen in a debate. I'm proud of all of you. Mr. Murdoch called me this morning and asked me to pass along his congratulations to everyone involved. He thought the debate was professional and intelligent. Thank you.
[Image via screengrab]
— —
>> Follow Andrew Husband (@AndrewHusband) on Twitter
Have a tip we should know? tips@mediaite.com