FBN Guest: Satanists 'Should Be Shot' Next to Statue They Wish to Erect in Oklahoma (UPDATED)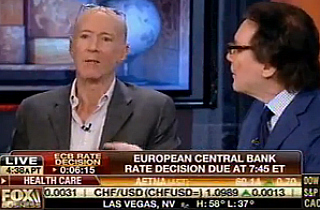 Last Thursday on FBN, Imus in the Morning executive producer Bernard McGuirk told his co-panelists he believes the Satanists who want to erect a monument on public property in Oklahoma City should be executed.
The remark came during the show's "Mensa Meeting" segment, in which Fox's Alan Colmes made the case that state governments shouldn't allow any religious monuments on public property because no one could possibly draw the line on what is a religion.
McGuirk fired back that Colmes was making a "false equivalency" between mainstream religions like Christianity and the self-described "antichrists" who believe in Satanism. "They should be able to put the statue up," he added, "and then they should be shot right next to it, and then we take it down."
Colmes bristled at the remarks, scolding his colleague for calling for someone's death over their religious views, but the panel quickly moved on.
Mediaite reached out to FBN for comment on McGuirk's remarks, and were redirected to WABC radio where McGuirk is an employee. We have contacted WABC and will add any response we receive.
Watch below, via FBN:
UPDATE: McGuirk apologized on the air Tuesday morning, saying that while he was clearly joking, such comments have no place on the show. He added that he made the joke "out of ignorance," because he had assumed Satanists preached "evil things" when, it turns out, they do not:
[Editor's note: This post has been updated since posting.]
[h/t Raw Story]
— —
>> Follow Andrew Kirell (@AndrewKirell) on Twitter
Have a tip we should know? tips@mediaite.com