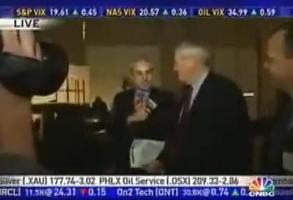 FBN is far behind CNBC in viewers, but they found a strange way to reach the top-rated business news network's audience today.
In the rush to get "the get," FBN attempted an ambush interview, along with CNBC and likely others, of new GM CEO Ed Whitacre – that partially aired on their competitor.
The networks were at GM's headquarters in Detroit, and just after 10amET Whitacre emerged, heading to the podium. Both FBN and CNBC cut to the moment – but FBN's Adam Shapiro was hammering Whitacre with questions. What started with "Why don't we talk after this," became, "We'll talk later," over and over again. All of this aired on FBN – and basically amounted to a lot of questions and zero answers.
But it also aired on CNBC's Squawk Box. Mark Haines set it up: "Not sure what we're looking at but let's go there and see what we can hear." What they could hear was very little – but what they could see was the same attempted interview between Shapiro of FBN and Whitacre. And then there was quite a bit of awkwardness. Both videos of 10:02amET are below.
CNBC's Phil LeBeau did eventually catch up with Whitacre later in the hour, at around 10:50amET. It too was an unplanned interview, as he grabbed the new CEO for a quick Q&A. FBN aired the makeshift presser Whitacre held (and Shapiro attended) 10 minutes later.
In the business network battle for "gets," FBN did get one victory today – they had an exclusive interview with Ford CEO Alan Mulally – exclusive, we hear, because CNBC did not want to go 2nd so canceled their interview.
Here's the CNBC video from today, and below, the FBN video:


And here's the FBN video:


—–
» Follow Steve Krakauer on Twitter
Have a tip we should know? tips@mediaite.com