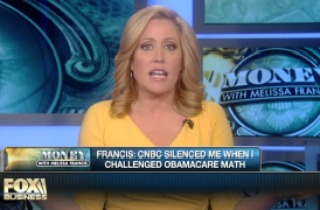 In light of #GruberGate, Fox Business Network anchor Melissa Francis opened up to her audience Friday afternoon about how CNBC, her former employer, "silenced" her for questioning the Affordable Care Act in its early stages.
Francis began by railing against MIT economist Jonathan Gruber and the Obama Administration for "counting on" the stupidity and lack of understanding of economics on the part of American voters. She then said the administration has been shielded by a liberal media that has been covering up the truth, including the Associated Press, NBC, ABC, the Los Angeles Times and others, who have been "too happy to comply."
She continued:
It's shocking, but it actually doesn't surprise me because when I was at CNBC, I pointed out to my viewers that the math of Obamacare simply didn't work. Not the politics by the way. But just the basic math. And when I did that, I was silenced. I said on the air that you couldn't add millions of people to the system and force insurance companies to cover their pre-existing conditions without raising the price on everyone else. I pointed out that it couldn't possibly be true that if you like your plan, you can keep it.
While asserting her predictions came true, she added that she was reprimanded by higher-ups at CNBC for "disrespecting the office of the president."
Francis praised her current employer for not keeping viewers "in the dark," and said people should not trust anyone else.
"I can tell you first hand, they are willing participants in the campaign to keep the economic truth from you," Francis added. "Don't let them do it."
Fox's Howard Kurtz joined Francis and concurred with her judgments. He cited how the New York Times has not printed a story about Gruber's comments, and decried the "head in the sand" approach that many media outlets have taken to the Gruber story.
Watch the video below, via FBN:
[Image via screengrab]
— —
>>Follow Andrew Desiderio (@forza_desiderio) on Twitter
[Note: Mediaite intern Andrew Desiderio is a student at The George Washington University.]
Have a tip we should know? tips@mediaite.com