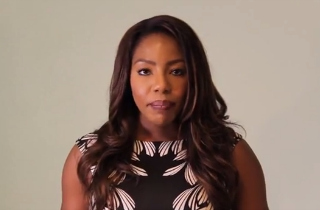 Former KTVA reporter Charlo Greene knew exactly what she was doing when she walked off-set Sunday evening after quitting in dramatic fashion. It's all part of a plan in the name of personal freedom.
In a new monologue posted to YouTube, Greene explains her "Fuck it, I quit" dramatics as part of a plan for bringing attention to her pro-marijuana campaign. (For those unaware, Greene quit following a segment in which she revealed herself to be the owner of the Alaska Cannabis Club.)
Echoing sentiments explored in Mediaite's over-criminalization panel earlier this year, Greene (whose real name is Charlene Egby), explains that government's false information about marijuana, and the media's poor reporting, results in laws that harm non-violent marijuana users, many of whom are "aspiring someones" whose lives are ruined by an arrest.
-RELATED: Why Won't President Obama Support Our Right to 'Choom' a Doobie Like He Did?
"A simple Google search shows prohibitionists don't know how to use Google," she snarks at one point, once again referring to the misinformation spread by legalization opponents. (Speaking of misinformation…)
Greene concluded the monologue by imploring viewers to share their "marijuana story" to show that "we smokers are responsible, contributing members to society." She concluded: "Changing one heart and mind at a time is the only way to legalize marijuana and bask in Lady Liberty's glory." Greene's crowd-funded Indiegogo campaign has thus far raised $6,500 in support of the cause.
Alaskan voters will decide on marijuana legalization this November.
Watch her monologue below:
— —
>> Follow Andrew Kirell (@AndrewKirell) on Twitter
Have a tip we should know? [email protected]