'F*ck Me!': Stewart Baffled that Trump's 'Farce of a Candidacy' Is Succeeding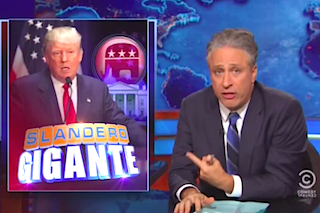 On his last show before what will be his final two-week summer break, Jon Stewart decided there was only one person he really wanted to talk about: his old friend Donald Trump.
After a week in which, one by one, Trump's business partners all but evaporated, Stewart said, "I am shocked that so many people were OK doing business with Donald Trump up to this point."
"But you know our PC culture immediately moves to shut controversial speakers up and censor them," Stewart added, "by interviewing them everywhere all the time."
Trump's non-apology tour culminated on CNN last night when he told Don Lemon of immigrants who are sexually-assaulted while trying to cross the border, "Somebody's doing the raping!"
"Touche," Stewart said, before adding "It is hard to get mad at Donald Trump for saying stupid things, in the same way you don't get mad at a monkey when he throws poop at you at the zoo. It's a monkey. It's what they do. In some ways it's on you for watching. What does get me angry is the ridiculous, disingenuous defending of the poop-throwing monkey."
From there, Stewart played clips of Fox News hosts and fellow president candidates alike defending Trump for supposedly speaking the truth about the problem of illegal immigration. "But that's not what he said," the host explained, while slowing the soundbite in question down enough so that even Rep. Steve King (R-IA) could understand it.
"Stop pretending!" Stewart exclaimed. "He said Mexico is purposely sending us drugs, killers and rapists and within that group there may be — he's not sure — some people who are good. That's the part he's not sure about. He's only sure about the overwhelming number of killers, rapists and drug addicts Mexico has sent us. That's what he said."
"But the one good thing to come out of this is that the farce of this candidacy is finally exposed, the un-seriousness of his candidacy is on display for all voters to see and the results will be obvious," he continued, before getting a glimpse at the latest polling numbers.
"Fuck me," Stewart concluded.
Watch video below, via Comedy Central:
[Photo via screengrab]
— —
>> Follow Matt Wilstein (@TheMattWilstein) on Twitter
Have a tip we should know? tips@mediaite.com