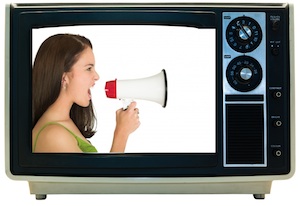 It's time to take another compelling journey into the realm of monthly cable news ratings through the oh-so-rosy lens of the network's publicists. What can you expect? Cleverly-crafted bullet points from the MSNBC, CNN, and imaginary* Fox News number-crunchers, all doing their best to somehow make Nielsen's month-end ratings look as if, yes, everybody won!
*(We imagine because Fox News does not send out ratings press releases.)
Did they really win? It all depends on who you talk to. But we can at least help parse the numbers and give a clearer picture of what really happened. Let's start with MSNBC…
***
MSNBC's Headline: MSNBC TOPS CNN IN PRIMETIME FOR FEBRUARY 2012
Their takeaway?: We're #2!
MSNBC's strength in February came primarily from Rachel Maddow and Ed Schultz, the only two non-Fox News anchors to average over a million total viewers. Maddow also averaged 290,000 viewers in the 25-to-54 year-old demographic, making her the highest-ranked non-FNC show among the big three cable news channels. Al Sharpton's PoliticsNation had a strong month, as well, up 30% in the demo and 26% in total viewers compared to February 2011.
What's not being said?:
Funny you should ask…
***
CNN's Headline: CNN TOPS MSNBC IN PRIMETIME FOR TWO CONSECUTIVE MONTHS
Their takeaway?: We're #2!
In the 1980s classic, Labyrinth, Jennifer Connelly's character ran into two talking guards — one that is always lying, and one that is always telling the truth. She quizzed them for a moment before choosing one of the doors they were in front of (one led to the center of the labyrinth, the other to certain death), sure that she had made the right choice. "I think I'm getting smarter!" she proclaimed, just as she took a step forward…and fell into a pit.
What we have here is very much like that. Not that one of either MSNBC or CNN are lying — it's more like the entire outside world is Connelly's character: just when we think we have something figured out…down the pit we go. Both press releases happen to be correct, they're just a matter of perspective. Observe:
From MSNBC's release:
"MSNBC topped CNN in total viewers in primetime during the month of February"
and from CNN's:
"In February, CNN topped MSNBC in M-F prime and M-Su prime in the target demo"
These are two very similar-looking, yet very different statements. CNN captured the 25-54 year-old crowd and MSNBC had more total viewers. In primetime. There are almost infinite variations on how to whittle down the wording of these releases: total day, primetime, dayside, Monday-Friday, Monday-Sunday, demo, total viewers, comparing to the previous year, comparing to the previous month. Mix and match just the right way, and voila! Two similar headlines, with each proclaiming victory over one another.
On a side note, Piers Morgan Tonight had a nice bounce in viewership, rising 25% in the demo and 14% in total viewers from January.
What's not being said?: David Bowie had a wonderfully typical 80s song in Labyrinth.
***
Fox News' Headline: (Our Best Guess since they don't do Press Releases): WE'RE BEATING ESPN AND MTV. NO BIG DEAL.
Their (theoretical) takeaway?: Gretchen Carlson > Snooki
Fox News, when it comes to ratings, is chock-full of fun tidbits. But our two favorites? The FOX Report with Shepard Smith finished February as the number one show in the 7 p.m. timeslot (among CNN, MSNBC, Fox News, and HLN) for 125 consecutive months. That's just an awesomely round number. And On The Record with Greta Van Susteren isn't far behind, having been tops at 10 p.m. for 118 months (they'll get their cake in seven weeks). Fun fact time!:
–Smith and Van Susteren have been #1 longer than the Gosselin sextuplets have been alive.
–They grabbed the top spot before Lost premiered.
–Twitter and Facebook were not yet created when they began their runs.
—National Treasure and Saw were both released in theaters after their #1 runs began.
What's not being said?: Smith and Van Susteren's #1 runs do not pre-date the iPod.
Have a tip we should know? tips@mediaite.com