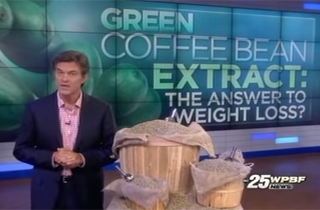 Score one for real medicine: The Federal Trade Commission announced that they would fine the makers of Dr. Oz's favorite diet pills for making false claims about its weight loss properties, forcing them to pay $9 million in restitution to duped customers.
The product in question, green coffee bean extract, was manufactured by Pure Health LLC and Genesis Today, Inc., and heavily featured in The Dr. Oz Show as a thing that could cause people to lose 20 pounds in twelve weeks without exercise. Not only was that claim totally untrue, it was also the basis for a congressional inquiry that led to the Senate chastising Dr. Mehmet Oz for promoting fake medicine, and the best lecture ever.
According to the FTC, the company's owner, Lindsey Duncan, began engineering an advertising campaign around the supplement to capitalize on his upcoming appearance on Dr. Oz's show. Products seen on the show usually go on to make a buttload of money (many of them are able to print "As Seen on Dr. Oz" on their packaging), and the FTC argued that Duncan made deceptive claims while advertising the product. It certainly didn't help that Dr. Oz himself said about the product: "I usually don't recommend weight-loss supplements, but this one has got me really, really excited!"
One of the best deceptive claims in the ruling, though, was that Duncan portrayed himself as an expert on green coffee bean extract, when in fact Duncan had no idea what the product was:
A producer with "The Dr. Oz Show" first contacted Duncan about appearing as a
guest to discuss GCBE in the morning of April 5, 2012. A Dr. Oz Show producer wrote: "We are working on a segment about the weight loss benefits of green coffee bean and I was hoping that Lindsey Duncan might be available to be our expert. Has he studied green coffee bean at all? Would he be able to talk about how it works?" At that time, Duncan had no familiarity with the purported weight-loss benefits of GCBE, nor did Defendants sell GCBE. Nevertheless, within a few hours, a senior member of the Defendants' public relations team replied: "Awesome! Thanks for reaching out, Dr. Lindsey does have knowledge of the Green CoffeeBean. He loves it!"
The study behind the extract was later retracted, and the FTC ruled that the company could no longer make any deceptive claims about any of their products.
[h/t Vox]
[Image via screenshot/WPBF]
—
>> Follow Tina Nguyen (@Tina_Nguyen) on Twitter
Have a tip we should know? tips@mediaite.com