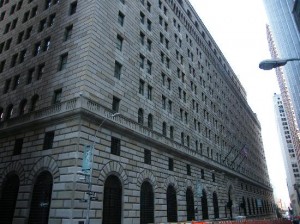 A Bangladeshi man was put in custody Tuesday after he was implicated in a plot to bomb Manhattan's Federal Reserve Bank, according to the New York Post and NBC 4 New York.
Authorities have arrested the man, who the Post describes as a "terrorist," for parking a car with what he believed contained explosives outside the Liberty Street building and then trying to set off the device with a cell phone detonator. He is reportedly set for a Wednesday court appearance.
According to the Post, an undercover FBI agent provided the suspect with the explosives. The man became a target of a federal investigation after posting peculiar content online. Acting Assistant Director Mary Galligan said in a statement to NBC 4 New York:
"Attempting to destroy a landmark building and kill or maim untold numbers of innocent bystanders is about as serious as the imagination can conjure. It is important to emphasize that the public was never at risk in this case, because two of the defendant's 'accomplices' were actually an FBI source and an FBI undercover agent. The FBI continues to place the highest priority on preventing acts of terrorism."
The agent reached out to the agent a few months ago and the suspect reportedly revealed that he wanted to bomb the bank, according to the Post.
UPDATE: The suspect has been identified as Quazi Mohammad Rezwanul Ahsan Nafis, a 21-year-old who resides in Jamaica, Queens and relocated to the United States in January just to orchestrate a terrorist attack, according to authorities. In a statement intending to take responsibility for the attempt, Nafis said he was interested in "destroy[ing] America," by going after its economy. Sources say Nafis was acting alone in his mission to harm the landmark.
Developing…
Have a tip we should know? tips@mediaite.com