Feeling Your Pain: Chelsea Clinton Files First Segment As Reporter On NBC's Rock Center
Feeling Your Pain: Chelsea Clinton Files First Segment On NBC's
Rock Center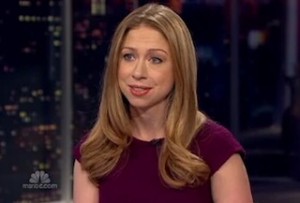 When Chelsea Clinton was announced as a contributor to NBC's news magazine show Rock Center with Brian Williams, there was a mixture of guffawing and curiosity among many media circles. Ms. Clinton is perhaps the least controversial of the Clinton trio, and her closely-guarded private life has always been something that people respected, compared to other famous political progeny eager to cash in on their family name. That has likely contributed to a sense of bewilderment that someone with next to no journalistic chops would get such a plum gig, simply because of her last name.
Last night, Ms. Clinton filed her first segment for the show, and it came out almost exactly as one might expect: a feel-good, sometimes cloyingly sweet, look at a woman in Pine Bluff, Arkansas, who has dedicated her life to helping the children of her town. The focus was on Miss Annette Dove, who gave up her life as an educator to start TOPPS, Inc., a not-for-profit service which helps kids out by providing food, guidance and love.
Clinton acquitted herself reasonably well, with a capable, if somewhat stiff, report entitled "Making a Difference." The segment's title not only sounds like a parody of a cliche human interest story, it almost actually is; Stephen Colbert does just such a parody entitled "Difference-Makers."
But here we are, a sweet segment on a woman helping poor kids in a rural Arkansas town, who is, in fact, making a difference. Jaded media bloggers can find fault with the whole enterprise, but the producers of the show are almost certainly considering an entirely different target demographic with this feel good piece, and for that, everyone should be happy with the end result.
Watch the bit below, courtesy of NBC News:
Have a tip we should know? tips@mediaite.com
Colby Hall - Founding Editor