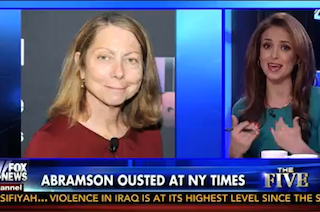 On Thursday, Fox News' The Five turned its attention to The New York Times' decision to replace Jill Abramson with Dean Baquet as executive editor. With rumors that Abramson's exit was precipitated by the revelation that she was paid less than her male colleges and predecessors, co-host Jedediah Bila argued that if that were the case, there's not necessarily anything wrong with it.
"Isn't it more about performance and experience?" Bila asked after Andrea Tantaros noted how the paper's stock price has dropped since Abramson took over from Bill Keller. "I mean, I don't think you should automatically get the same salary as someone else who did a job before you just because you hold the same job."
"I think it's insulting to woman to say, 'well, because I'm a woman, I deserve the same salary as this person,'" Bila continued. "No, give me a starting salary you think I deserve. Let me prove myself. It's not about gender. That's so demeaning to women — women who use their gender to say, 'I deserve this and that because I'm a woman.' What are we, back 50 years now? No, that's not how it works today."
Abramson reportedly confronted her bosses at the Times when she found out that her salary and pension were less than Keller's. But as The New Yorker's Ken Auletta said this morning, the pay disparity issue was not the sole reason she was fired. "That fed into a narrative that she was difficult to work with," he said.
But as New York Times publisher Arthur Sulzberger, Jr. said in a statement Thursday, "compensation played no part whatsoever in my decision that Jill could not remain as executive editor." He also said that in her last year as executive editor, her "total compensation package was more than 10% higher than that of her predecessor."
Watch video below, via Fox News:
[Photo via screengrab]
— —
>> Follow Matt Wilstein (@TheMattWilstein) on Twitter
Have a tip we should know? tips@mediaite.com