Ferguson Mayor Responds to DOJ Report: We've Hired Some Black People, Did Diversity Training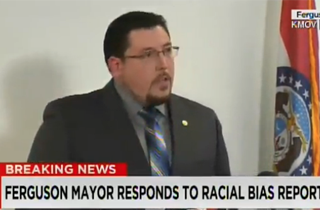 Hours after the Department of Justice released a report condemning their police department's discriminatory practices, the mayor of Ferguson, Mo., gave a press conference in which he announced that the city had punished three officers responsible for sending racist emails and hired more African-Americans, while glossing over the lack of systemic oversight, leading to the environment mentioned in the report.
The report, released after months of investigation into the Ferguson PD's conduct after the death of African-American teenager Michael Brown, found that the police's revenue-driven discriminatory practices, including their recurrent targeting of black people for seemingly minor infractions and their frequent racist emails, drove a wedge of distrust and hostility between the police and the community. (The DOJ simultaneously released the results of their investigation of Officer Darren Wilson and cleared the civil rights charges against him.)
In the conference, Ferguson mayor James Knowles said that they had fully cooperated with the DOJ's investigation, and, as a result, had placed the three officers responsible for the racist emails on leave. "This type of behavior will not be tolerated by the FPD and the city of Ferguson," Knowles said, adding that one officer had been fired; the fates of the other two are unknown.
Knowles also touted their new African-American hires in the police force and their corrections system, the FPD's completion of "diversity training," a civilian task force oversight board, and a new youth outreach program intended to engage the community.
He also referenced the report's findings that the discriminatory behavior — particularly the fact that African-Americans were frequently and heavily fined for seemingly small offenses, such as not paying parking tickets — stemmed from the city pushing the police department to increase revenue. Knowles cited some of the city's prior efforts to reform the municipal court system, such as capping the municipal court revenues at 15% of the city's budget, and creating a separate docket for people who had trouble paying fines. "In addition, there is no longer a specific offense for failing to appear," he also said, adding that prior charges under that offense would now be dropped.
Knowles then wrapped up the press conference and did not take any questions.
Watch below via CNN:
[Image via CNN/screenshot]
—
>> Follow Tina Nguyen (@Tina_Nguyen) on Twitter
Have a tip we should know? tips@mediaite.com