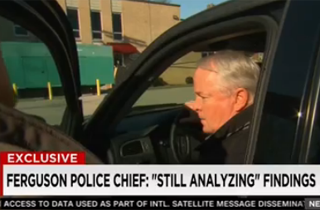 After the Department of Justice's scathing report on the Ferguson Police Department was released earlier this week, people started wondering: why didn't its police chief Tom Jackson have anything to say about it? According to CNN's Sarah Sidner, Jackson had been barred from talking to the press after the report was released, and when she tracked him down, discovered why.
We should point out that Jackson's previous public appearances — from his terribly explained press conferences, to his weird home-made apology videos, to his inexplicable attempt to march with the Ferguson protesters — usually end in disaster, exacerbating the tension in Ferguson and the questions surrounding the death of Michael Brown. (Basically, if there's a man whose words are kindling for media fires, it's this guy.)
And in this video, conducted while he was trying to get out of his SUV, it's clear that he's still not very good at talking to press:
SIDNER: Explain. Do you think the department has a race problem? Do they have a problem? And are you going to fix it? What are you going to do about it?

JACKSON: I need to have time to really analyze the report so I can comment on it.

SIDNER: Why do you need time to analyze the report? you should have known what was going on in your department, correct?
In fact, he did know, and the CNN report cites emails in which he agrees to boost the city's revenue via increasing arrests and issuing more tickets. In addition, a press conference held earlier this week by Mayor James Knowles acknowledged many of the findings and, while they didn't address the systemic racism in the police department, admitted many of their faults and vowed to take action.
Sidner continued:
SIDNER: I've talked to everyone. I've given you literally every opportunity. We've been talking for days and days and days. All we want is an answer from you. What do you think of this DOJ report and what are you going to do about it? Just any idea what it is you're going to do yourself about this as the chief of the department?

JACKSON: I'm going to analyze the report and take action where necessary.

SIDNER: Does that mean you're going to stay around?

JACKSON: I'm going to take action where necessary. Thank you.
Watch below, via CNN:
[Image via screenshot]
—
>> Follow Tina Nguyen (@Tina_Nguyen) on Twitter
Have a tip we should know? [email protected]