Ferguson Police Report: Michael Brown Allegedly Took Part in 'Strong-Arm' Robbery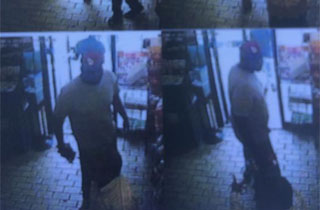 The incident report in a packet released by the Ferguson Police Department alleges that Michael Brown and a friend had taken part in a strong-arm robbery of a convenience store immediately before his shooting, releasing photos and video of a man wearing similar clothing to Brown and harassing an unknown man.
According to the report, tweeted online by HuffPost's Ryan Reilly, the first page states that Officer Darren Wilson was responding to a sick call last Saturday when dispatch alerted him that two young black men had robbed a Kwik Shop.
"Brown grabbed a box of Swisher Sweet cigars and handed them to Johnson," says the report. "[REDACTED] witnessed [REDACTED] tell Brown that he had to pay for those cigars first. That is when Brown reached across the counter and grabbed numerous packs of Swisher Sweets and turned to leave the store."
When a bystander attempted to stop Brown from leaving, Brown allegedly "grabbed [him] by the shirt and forcefully pushed him back into a display rack."
These photos were released with the packet:
PHOTO HANDOUT: video stills of alleged altercation between Brown and Quick Trip worker pic.twitter.com/i2ZIyBQ0BK

— Wesley Lowery (@WesleyLowery) August 15, 2014
But here's what the packet of information did not convey: What happened during the incident with police that led to Michael Brown's death. Nothing yet has been released on that.
CNN reporters ran through the packet live on-air. Watch below:
UPDATE (10:35 AM EST): Here's what WaPo's Wesley Lowery notes is not in the packet:
Info handed out ONLY about alleged robbery. NO info included about interaction with Officer Wilson, the shooting.

— Wesley Lowery (@WesleyLowery) August 15, 2014
Not handed out: a use of force report, any police report written by Officer Wilson, any narrative of shooting

— Wesley Lowery (@WesleyLowery) August 15, 2014
All we know about shooting from these docs: at 12:01 pm Officer Wilson encounters Brown.
12:04 pm: second officer arrives, Brown dead

— Wesley Lowery (@WesleyLowery) August 15, 2014
[Image via screenshot/CNN]
—
>> Follow Tina Nguyen (@Tina_Nguyen) on Twitter
Have a tip we should know? tips@mediaite.com