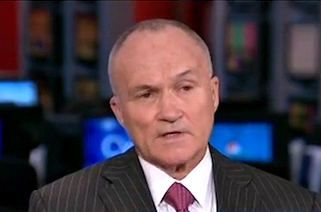 On Morning Joe Wednesday morning, New York Police Commissioner Ray Kelly fought back against allegations that the NYPD had monitored entire mosques in the course of counterterrorist operations, telling host Joe Scarborough that the charges were the result of two reporters with an axe to grind, and the police department's tactics were conducted lawfully and in the interests of the city's security.

"They're hyping a book that's coming out next week," Kelly said of the authors of the article with the allegations. "The book is based on a compilation of about fifty articles two AP reporters did on the department. If it's a reflection of the article, then the book will be a fair amount of fiction. It will be half-truths, it will be lots of quotes from unnamed course sources."
"Our sin is to have the temerity, the chutzpah, to go into the federal government's territory of counterterrorism and trying to protect this city by supplementing what the federal government has done," he continued. "We put these programs in three and a half months after 9/11. Three and a half months after 2,800 people died on this island, about three miles away. But this has been the harangue of these two reporters."
Kelly maintained the NYPD's activities were in accordance with the law.
"We have an agreement that has been authorized by a federal judge," Kelly answered. "We follow that stipulation to the letter, and it authorizes us to do a whole series of things. Certainly investigations are part of it. We follow leads wherever they take us. We're not intimidated as to where that lead takes us."
Scarborough asked if Kelly agreed that it would be improper to place entire mosques under police suspicion.
"Of course," Kelly said. "We do according to the law. What we're investigating, and how we investigate it, is done pursuant to a federal judge's direction."
Watch the full interview here, via MSNBC:
————
>> Follow Evan McMurry (@evanmcmurry) on Twitter
Have a tip we should know? tips@mediaite.com