Filibuster Hero Wendy Davis Dares Texas To Draft Her For Run At Governorship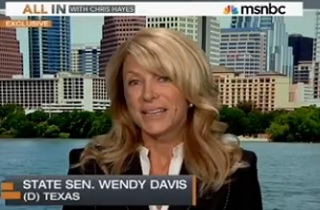 State Senator Wendy Davis (D-TX), the lawmaker who fought to keep the Texas legislature from passing an unconstitutional abortion ban, and won with a little help from her friends, turned Wednesday night into Wendysday night with several media appearances. In one such appearance, on MSNBC's All In, host Chris Hayes asked Sen. Davis if she might be eyeballing a run at Governor Rick Perry's job in 2014, and Davis responded with something other than the standard "I'm focused on my job for the people of (insert jurisdiction)," practically daring Texans to send her the statehouse to restore the ban on Christmas, Easter, and… I can't… oops!
"There is a gubernatorial election in 2014, your state has not elected a statewide Democrat for quite some time," Hayes understated. "Are you going to run for governor?"
"You know, I would be lying if I told you that I hadn't had aspirations to run for a statewide office," Sen. Davis replied. "I love this state, and it's been an incredible opportunity to represent it in the Texas Senate."
That takes care of the will, leaving only the way.
"I think, though, the real story will be, will the sentiment of the people hold?" she continued. "Will they demonstrate their desire for new leadership in this state? If yesterday was any indication, I think chances are pretty good that that's going to be the case."
Are you listening, Texas? Will you demonstrate a desire for a new, awesome governor who won't refuse to say "Merry Christmas?"
Hayes then pointed out that there were over 100,000 people watching the live stream of Davis' filibuster, from all across the country.
"It was a very encouraging sign that people appreciate when you take a tough stand, and you do hard things in order to make sure that their personal liberties are preserved against the tide of big government intrusions that are being pushed upon them by people like Governor Perry and Lieutenant Governor Dewhurst," Sen. Davis said. What she didn't say, but ought to know, is that the throngs across the country who applauded her effort would make a pretty decent donor base.
Sen. Davis also faced the question of a gubernatorial run Thursday morning, telling CBS This Morning that "We'll see."
There's been a lot of talk about when, not if ,Texas will go blue, and while the 2014 midterms might seem like an iffy time for a Democrat to make inroads, a Wendy Davis run just might work. A January poll by Public Policy Polling, the Democratic-leaning but deadly-accurate polling firm, found that Governor Rick Perry is as vulnerable as a naked, honey-covered armadillo on an anthill. Only 31% of Texans think he should even run again, versus 62% who think he should pack it in, and even among Republicans, only 41% want him to be there candidate, versus 47% who want someone else.
More importantly, for Sen. Davis, Gov. Perry's approval rating with women is a disastrous 35% approve to 57% disapprove, which could make a huge difference if he were to face an army of Davis-led Gyno-Americans. Also in that January poll, Wendy Davis had a 15% favorable/19% unfavorable rating, with 66% of Texas voters remaining persuadable. Even with a meager 33% name recognition in January, which is sure to change, Wendy Davis only polled six points behind Perry, at 47% to 41% (she fared worse in a matchup with Attorney General Greg Abbott, but again, this was pre-filibuster).
The same poll also found former Secretary of State Hillary Clinton leading all Republican 2016 hopefuls in the state, including a 50%-42% lead over Rick Perry. Unfortunately, Wendy Davis won't be able to run with Hillary Clinton at the top of the ballot, but campaigning for Davis would give Hillary a great excuse to pad her lead in Texas, without even having to announce a presidential bid.
Texas hasn't elected a Democratic governor since 1990, when they elected Ann Richards by a narrow, third-party-aided 49%-47% margin. If she decides to run, Wendy Davis will also be aided by the late Gov. Ann Richards' daughter, Planned Parenthood President Cecile Richards.
Another option for Davis is the US Senate, where she trailed incumbent John Cornyn (R-TX) by 11 points in a heads-up match in January.
For his part, Governor Perry couldn't be making the choice starker for Texas voters, following Sen. Davis' Artemisian stand by announcing another special legislative session, to begin July 1. If Wenndy Davis is going to run for governor, the iron could not be hotter than it is right now.
Have a tip we should know? tips@mediaite.com