Filmmaker Who Thought 'Liberal Media' Was 'Invented By Limbaugh' Shunned For Film On Radical Islam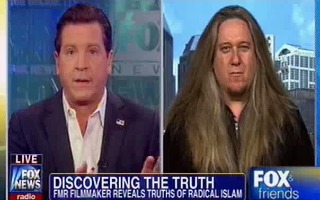 On Tuesday, Fox & Friends invited former documentary filmmaker Erick Allen Bell back on the program to continue a discussion about a political conversion he underwent while making a film about the construction of a large mosque in Tennessee. Bell set out to make a film about the religious intolerance of southern evangelicals but he says what he discovered about radical Islam while making the film forced him to reconsider his preconceptions. "The liberal media, which I didn't believe existed before this – I thought that was invented by Rush Limbaugh — there is a liberal media," said Bell. "And they do have a bias. They're not interested in this story."

RELATED: Muslim Brotherhood-Backed Candidate Wins Egyptian Presidential Election
"I wrongly thought that the opposition to the mosque was about evangelicals wanting to maintain the home court advantage and just not wanting another religion to have such a big facility in their town," said Bell. "Sure enough, there is no such thing as radical Islam – it doesn't exist. Islam is radical. Muslims, fortunately, in America mostly – not radical. But Islam is radical to the core."
Bell says he set out to write over 100 blog posts for the liberal site Daily Kos outlining some facts that he felt most people did not know about Islam on issues like freedom of religion, the rights of women and gays. "I was told I was right-wing and an Islamophobe for pointing these things out," said Bell.
Fill-in co-host Eric Bolling asked Bell how he felt he was being treated by the liberal media after he had his epiphany.
"Well, they don't return my calls," said Bell. "They loved me when I was saying that this was a civil rights issue. The only media that's paying attention to this issue when I present facts — scary facts – are the conservative media."
Bell said he did a one hour pre-interview with National Public Radio but they declined to air a report on his film.
"Why is that," asked Bolling.
"I think it's hard to admit when you are wrong," said Bell. "There's a perceptive disability that a lot of liberals have. When I say Islam, they hear Muslim. So if I say 'I'm against Islam,' they hear 'I'm against Muslims,' which sounds like hate speech. And the last thing that NPR wants to do is engage in what they perceive to be hate speech."
Watch the segment below via Fox News Channel:
> >Follow Noah Rothman (@Noah_C_Rothman) on Twitter
Have a tip we should know? tips@mediaite.com