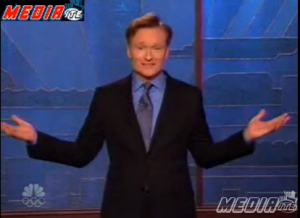 It's — finally — official: Conan O'Brien is leaving NBC. The fifth host of the Tonight Show will have that title until 12:35 a.m. early Saturday morning EST, when his final tonight show will end and he will officially be done at the network.
The Wrap's Josef Adalian broke the news at 4:15 a.m. EST — 1:15 a.m. PST — reporting that Conan's manager Gavin Polone had confirmed in the wee hours of the morning that Conan and NBC had reached an agreement "after nearly two weeks of protracted, oft-bitter and highly publicized divorce proceedings." The deal, wrote Adalian, is worth over $40 million.
Reports today were that the deal had been snagged on the issue of compensation for Conan's staffers, many of whom had uprooted and moved their lives and families from New York to work on the most storied franchise in late-night comedy. Per Adalian:
"It's signed. In the end, Conan was appreciative of the steps NBC made to take care of his staff and crew and decided to supplement the severance they were getting out of his own pocket," Polone told TheWrap. "Now he just wants to get back on the air as quickly as possible."

NBC reps couldn't immediately be reached early Thursday.
Update: NBC has now confirmed the agreement, reports Willie Geist on MSNBC's Way Too Early, 5:52 a.m.
NBC will presumably hand back the Tonight Show — what Adalian called "a brand badly bruised by a series of management missteps breathtaking in their ineptitude" — back to former steward Jay Leno following the Olympics. $40 million plus, a sparkling new studio for Conan and a whole lot of goodwill later, for their sake let's hope it's worth it.
In the meantime, Conan has two more shows to go — expecting to welcome guests including Barry Manilow, Will Ferrell, and Tom Hanks — and possibly spend a few million more of NBC's money.
Other details from The Wrap:
Conan's can't appear on another network until September 1, 2010.
Jay Leno's contract would actually have been more expensive to cancel than Conan's.
After Conan's last show, both Conan and NBC will observe a brief press blackout.
They can take the Masturbating Bear (which appeared tonight) — but they can't take Coco.
More details — and there are many, kudos to fine work from the Wrap, which beat the NYT, and that's gotta sting — may be found here.

Buenos noches, Conando.
Related:
Done Deal! NBC, Conan Officially Splitsville [The Wrap]
NBC's Parting Gift: When Conan Became 'Coco' [The Wrap]
Conan's Satisfaction: Blowing $1.5 Million of NBC's Money [Mediaite]
Have a tip we should know? tips@mediaite.com