Finally! Jon Stewart Gives Betsy McCaughey a Polite But Devastating Smackdown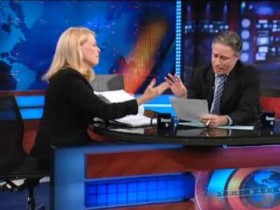 Two interesting things about this Daily Show interview with GOP health care demagogue Betsy McCaughey: (1) It was cut off in the middle, with Stewart directing viewers immediately after to the website, where the unedited second part would be waiting; and (2) Stewart patiently, politely, and firmly smacked down her exaggerations, misrepresentations and lies. I hope every other newscaster in America was watching.
Stewart welcomed her politely, as he does all his guests, and then just let her dig her hole: He understands that you can be polite and still call someone out baldly on their naked misrepresentation of fact. McCaughey walked on set all smiles with a giant binder containing the legislation, and proceeded to refer to it knowledgeably as though that would be enough to convince Stewart that her fanciful interpretation of it was correct. It was not: He called her on her "hyberbolic" statements and noted bluntly where she made leaps of logic unsupported by fact.
See, for example, where McCaughey lamented that it would be "really wrong" if the old people had their living wills yanked out from under them. Said Stewart: "It would be really wrong if this was in any way what this says. But that is not in any way what this says." In a beautiful power move, he pulled the paper from the binder: "Let me take this out because you clearly don't need it. Look: 'Such measures shall measure both the creation and adherence to orders for life-sustaining treatment.' Life-sustaining."
The whole thing reminded me of The Princess Bride where Vizzinni keeps on saying "inconceivable" and Inigo says, "You keep using that word. I do not think it means what you think it means." Part 1 and 2 of the unedited interview below. They are not only worth watching, they are mandatory viewing.
Betsy MCaughey Extended Interview – Part I:
Betsy MCaughey Extended Interview – Part II:
Have a tip we should know? tips@mediaite.com