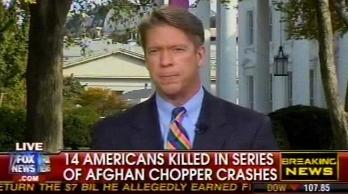 Is everyone ready for this pay czar interview drama to be over?
Major Garrett was on Fox News Radio show Brian and the Judge this morning, and told his side of the story. Which actually ends up shedding some light on a few areas of the issue.
Here's the backstory – late last week Fox News reported the White House had excluded them from a round-robin set of interviews with new pay czar Ken Feinberg. Normally this sort of thing wouldn't be a story, but in the context of the ongoing feud between the White House and Fox News, it set off a flurry of accusations between the two sides.
The White House press pool – which includes Fox News – was informed of the administration's alleged snub; and stood up for their "sister organization," claiming that unless FNC was included, there would be no interview. It was then reported that the White House relented and allowed Fox to participate.
Shortly after the story broke, the White House began to dispute some significant parts of how this story was initially reported by Fox, though according to FNC Senior Vice President Michael Clemente, the White House did admit that a low-level mistake made. The allegation of the snub partly centered around whether or not FNC ever asked to be a part of the interview.
Well today Garrett finally explained his side of the supposed FNC snub, saying "the Treasury Department did not receive on that day a specific request from Fox to interview Feinberg," but he has a "standing request from me as senior White House correspondent on Fox to interview any newsmaker at the Treasury at any given time news is being made."
So while he admits they never made a specific request for the interview, he also makes clear that they need never make one because they have a standing request to interview "any high-ranking member of the Treasury if they are making news." That would certainly be the case here.
Making the story even more cloudy, the interview with Feinberg was first declared just a "pen and paper" (print only). Garrett added that upon learning this, Fox Business requested an on-camera interview with the pay czar. So what does that mean?
Well, this is not exactly how James Rosen reported this story for FNC as it initially broke Thursday, when he said, "the administration specified all members of the pool were welcome except Fox News." Further, Clemente later said the network did request an interview (a point that doesn't appear to be complelely consistent with Garrett's version of events). However, as Garrett later says, "taken together in any logical understanding of journalistic curiosity," the Treasury Department should have understood Fox wanted in. And, since the interview was then made a pool interview, it should have been automatic for FNC to be included.
The White House later acknowledged it had made a mistake – but didn't outright apologize. Are we all up to date here?
>>> NEXT PAGE: Garrett said more about FBN, and the way the WH treats FNC, plus the audio.
Have a tip we should know? tips@mediaite.com