Fiorina Fires Back at CNN Host: 'I Can't Believe We're Having This Conversation'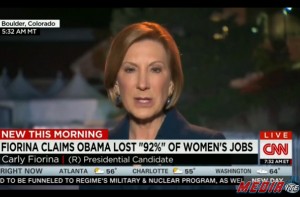 Carly Fiorina defended herself on CNN today against claims she used inaccurate information about President Obama during Wednesday's debate.
In an interview on CNN's New Day, host Alisyn Camerota asked Fiorina about her statement that "92 percent of the jobs lost during Barack Obama's first term belonged to women," citing an article by The Washington Post that fact-checked Fiorina's numbers.
Fiorina pushed back at Camerota, telling the host that from her point of view, The Washington Post has "no credibility, honestly."
Fiorina continued to hound Camerota for her line of questioning, assuring the CNN host that her data was correct. "The liberal media doesn't like the data. Perhaps the liberal media doesn't like the facts," Fiorina suggested.
"All the groups that progressives claim to be helping are being hurt in this Barack Obama term," she added.
When Camerota shifted the conversation to Fiorina's comments on Planned Parenthood, the presidential hopeful continued to badger the host. "Wow, Alisyn, I can't believe we're having this conversation, honestly," Fiorina said. "It's clear now, it's very clear that Planned Parenthood is harvesting body parts."
"Honestly, this has been hashed and rehashed. Is there no other issue of economic import to the middle class in the United States of America that you'd like to talk about this morning?" Fiorina asked.
Unrelenting, Camerota suggested that Fiorina's poll numbers dipped because constituents perceived her Planned Parenthood comments as misleading or false.
"Well, that's quite a theory. Well, that's quite a theory," Fiorina retorted. "All of the stats that I just quoted are true. They're out there."
Watch the video above, via CNN.
[h/t Media Matters for America]
—
>> Follow Elizabeth Preza on Twitter (@lizacisms)
Have a tip we should know? tips@mediaite.com