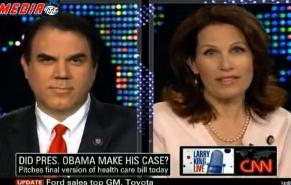 Democratic Rep. Alan Grayson wonders if Dick Cheney collaborates with Satan and throws around the word "Holocaust" when discussing the other side's health care plans. Republican Rep. Michele Bachmann has Super Bowls of Freedom and holds Prayercasts to stop the health care bill.
So when they faced off on Larry King Live last night, why was it so…calm?
"My esteemed colleague from Minnesota is entirely wrong," said Grayson early in the debate, which was billed in the lower third as a "Health Care Showdown." But beyond that, it stayed entirely focused on the key points from each side. "Why can't you come together on this?" asked King, as each member of Congress stuck strong to their talking points.
The one point of contention came when Bachmann asked about why the White House gave a "judgeship to a brother of a member of Congress," while Pres. Obama was "twisting his arm" about his health care vote. (Politico sheds more light on this.) Grayson called it a "weapon of mass distraction" while Bachmann cut in: "Corruption isn't a distraction, corruption is an issue, we need to know if he's corrupt."
CNN has made it a point to continue as the only non-partisan, hard news cable news network during prime time hours. But it doesn't mean there can't be some fireworks when two very partisan (and previously unafraid to go a little off the talking points reservation) guests come on to debate an issue both are certainly passionate about. King kept each in check, and the result was a reasoned, but talking point-filled discussion. Maybe with the health care bill almost reaching a boiling point, this is the tone each side wants to set. But it wasn't the showdown anyone expected.
Here's the interview:

—–
» Follow Steve Krakauer on Twitter
Have a tip we should know? [email protected]