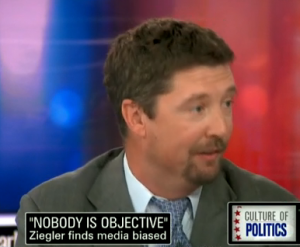 Filmmaker—and former Mediaite contributor—John Ziegler is a big fan of Sarah Palin. He stopped by Parker Spitzer last night to discuss what he sees as the media's bias against the former governor—and to accuse Kathleen Parker of being a perpetrator of that bias.
Ziegler, director of Media Malpractice: How Obama Got Elected and Palin Was Targeted, kicks off his appearance by accusing Parker of being "duped by the media" into thinking that Obama was a moderate voice, as well as being partially responsible for the "assassination of Sarah Palin" (metaphorically speaking, of course). Ziegler is so dogged in questioning Parker about her bias that he prompts the host to laugh, "I'm the interviewer here!"
For her part, Parker says she never endorsed President Obama, and that she's written critical things about him before and after the election. She agrees, though, that she "led" the charge against Sarah Palin: "On September 26, 2008, I said that she was out of her league, and I have rested my case so many times that I don't need to bring that up again." Parker also claims that while some media figures came out against Palin in ridiculous, harsh ways, she was not one of them.
Eliot Spitzer eventually jumps in to say that he speaks for many Americans when he says Palin was not ready to be Vice President—and that Ziegler's credibility is hurt by the fact that he believes Barack Obama to be a socialist. Then he makes a pretty wise statement: "Every person in his or her own way views the world through their prism, and isn't it better to say to the public, 'Understand that,' than to live in the puerile world where you pretend there's objectivity?" Spitzer also says that the media has "fallen in love with" both Democrats and Republicans, which proves there's no strictly liberal bias.
Watch Ziegler's appearance on Parker Spitzer below.
Have a tip we should know? tips@mediaite.com