First Autistic Presidential Appointee Lambastes Joe Scarborough And Autism Speaks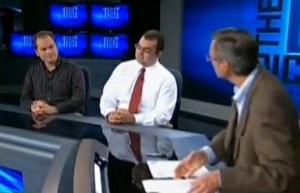 The controversy surrounding Morning Joe host Joe Scarborough's grossly irresponsible remarks linking mass murderers like Aurora mass shooter James Holmes to autism, and subsequent non-apology, has drawn widespread outrage from the autism community, with the notable exception of its most visible group, Autism Speaks. Ari Ne'eman, President of the Autistic Self Advocacy Network and the first presidential appointee with autism, denounced Scarborough's remarks, and Autism Speaks' reaction to them, in an email statement to Mediaite.
Appointed, by President Obama, to the National Council on Disability in 2010, Ari Ne'eman is President of the Autistic Self Advocacy Network, which was one of the first autism organizations to call on Scarborough to retract and correct his false statements on Monday. The point all along has not been to beat up on Joe Scarborough, but to correct the harm done by his irresponsible statements with an on-air correction, and perhaps a deeper discussion of autism. Scarborough, to date, has said only that those upset by his remarks missed the point, and that perhaps he could have been more "eloquent."
After several days of silence, Autism Speaks released a statement which failed to address the inaccuracy of those statements, or to request a correction. In an email to Mediaite, Ne'eman gave the following reaction to Scarborough's remarks, and Autism Speaks' reaction to them:
Joe Scarborough's recent non-apology regarding his unfounded remarks suggesting the Aurora, CO shooter is on the autism spectrum shows that he continues to miss the point. Not only did Scarborough refer to Autistic Americans as burdens on society, he also used his statement on the controversy to promote the long standing fallacy of an "autism epidemic." Furthermore, his use of Autism Speaks, an organization widely reviled within the Autistic community and without a single Autistic person on their board of directors, as political cover for his remarks indicates a lack of real understanding of the issues at stake.

Indeed, Autism Speaks has a long history of recruiting those who disparage Autistic people and our families as spokespeople. This is the same organization that welcomed Denis Leary with open arms after his book claiming, "There is a huge boom in autism right now because inattentive mothers and competitive dads want an explanation for why their dumb-ass kids can't compete academically, so they throw money into the happy laps of shrinks . . . to get back diagnoses that help explain away the deficiencies of their junior morons. I don't give a [bleep] what these crackerjack whack jobs tell you – yer kid is NOT autistic. He's just stupid. Or lazy. Or both." In light of this, it is unsurprising that Scarborough would have chosen Autism Speaks as a partner to rebut community outrage regarding his prejudiced statements.

In addition, while Scarborough's offending remarks were made on the air to his audience of millions of viewers, his "clarification" was made in a brief and far less circulated statement. He owes Autistic people and our families a real, on-air apology. We hope that Joe Scarborough and MSNBC rethink their ill-advised approach towards autism and refocus their coverage to highlight the ongoing civil rights struggles of our community on issues such as  employment, education, housing and stopping abuse.
Leary, it should be noted, later issued a similar non-apology, saying "I have nothing but admiration and sympathy for the people I know who are raising children with autism. In fact, they were the inspiration for the chapter I wrote about the subject. To them – and to all parents of children with autism – I apologize for any pain the out-of-context quotes from my book may have caused."
Aside from his apology-killing "out-of-context" claim, Leary doesn't bother to apologize to the autistic people he may have hurt, or even seem to realize they exist.
Steve Silberman, a reporter who covers autism-related issues for Wired, blogs about autism and neurodiversity for the Public Library of Science, and author of the upcoming book NeuroTribes: Thinking Smarter About People Who Think Differently, had similarly harsh words for Scarborough and Autism Speaks:
Claims that autistic people are prone to becoming criminals or even violent killers have a long and ugly history, and are contradicted by scientific evidence that autistics are actually *less* prone to committing violent crimes than neurotypical people. Scarborough's idle speculations that the Colorado shooter was 'on the autism scale' were inexcusable, particularly in light of the fact that Scarborough himself has an autistic son. As the leading fundraising organization for autism research in America, Autism Speaks has a moral obligation to defend the community it claims to 'speak' for from terrible slurs like this, which can only increase negative stereotypes, bullying, and violence against autistic people. In this case, a limp statement that they hope to appear on Morning Joe soon to set the record straight was inadequate, to say the least.
While it appears Scarborough has no intention of making an on-air correction, there is nothing to prevent other cable news programs from doing so. In fact, liberal radio and TV host Thom Hartmann did just that last night, interviewing Ari Ne'eman and labor journalist Mike Elk, who also has autism and has called for Scarborough to retract. Other cable news shows should follow Hartmann's lead, and help to make sure that "autism awareness" is restricted to things that are actually true:
Follow Tommy Christopher (@TommyXtopher) on Twitter.
Have a tip we should know? tips@mediaite.com