First Guest On Piers Morgan Tonight? If You Were Hoping For Kate Middleton, Sorry. You're Getting Oprah.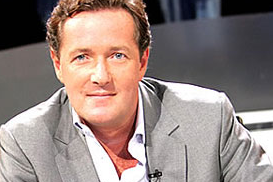 A lot of the buzz around who'd be the first guest on CNN's new Piers Morgan Tonight revolved around plenty of hints it would be royalty. And sure enough, it is. Only it's not royal-wedding bound Kate Middleton, it's just Queen of Daytime TV Oprah Winfrey.
At the Television Critics' Association meeting in Los Angeles, Piers Morgan made it official, Oprah will be first to undergo the Morgan Magic (he made Simon Cowell cry!) when his show debuts on January 17.

In announcing Oprah–and no disrespect whatsoever to her–Morgan appears to have failed in his publicly-stated goal of landing Kate Middleton. As Morgan told TV Guide:
I am working hard on getting that interview. I've known William a long time and I knew his mother, Diana, very well. I had a memorable lunch with William and his mother when he was 13. I spoke with her regularly on the phone. I'm a big monarchist. I think a royal wedding is very exciting.
I guess not. Perhaps Oprah got the Kate Middleton interview and, in the weird pecking order of celebrity interviews, that means Morgan gets Oprah and–just guessing–that means Barbara Walters will get the sit-down with Piers Morgan?
Oprah, who recently gave a revealing interview with Walters, has plenty to talk about. She's ending her daytime show and has just launched the OWN cable television network. And let's be thankful for Oprah. Access Hollywood suggested recently the first guest on the CNN show could be Kim Kardashian.
Watch the preview clip below:
Have a tip we should know? tips@mediaite.com