First Lady Michelle Obama Delivers Love Letter With Substance At Democratic National Convention
Michelle Obama Delivers Love Letter With Substance At DNC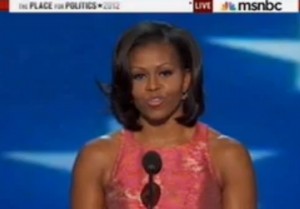 First Lady Michelle Obama took the stage to thunderous applause at the Democratic National Convention Tuesday night, and delivered a speech that hit all the right personal notes, but was also surprisingly long on substance. While recounting the values that she and "Barack" grew to share, Mrs. Obama also made important connections between those values and President Obama's achievements.
There were also a few possible veiled shots at Republican candidate Mitt Romney.
The First Lady framed her speech as the story of how she feared her husband's presidency might change him, versus how it actually did ("I have seen firsthand that being president doesn't change who you are," she concluded. "No, it reveals who you are."), and wove it together with stories of their family histories, of struggle and sacrifice, and of the sometimes stingy rewards of hard work. There were also colorful threads about the young future president's rusted-out car and too-small shoes, but Mrs. Obama largely avoided the treacly pitfalls of the spouse's speech, in favor of crystal clear, passionate advocacy for her husband's work, and the values that guide it.
In describing the lessons she and her husband took from their respective upbringing, the First Lady delivered what might seem, to some, like veiled shots at Republican rival Mitt Romney, whose tremendous wealth, and secrecy about it, have earned him heavy criticism.
"We learned about dignity and decency," she said. "That how hard you work matters more than how much you make. That helping others means more than just getting ahead of yourself. We learned about honesty and integrity. That the truth matters. That you don't take shortcuts or play by your own set of rules. And success doesn't count unless you earn it fair and square."
Mrs. Obama sounded a similar note later in the speech, but this time, in almost poetic fashion. "For Barack," she said, "success isn't about how much money you make, it's about the difference you make in people's lives."
As a writer, this was probably my favorite line of the entire speech, but politically speaking, it's a tossup as to whether the sentiment, lovely on the lips, gets any traction on the ground.
She connected the personal threads of her story with things like the Lilly Ledbetter Fair Pay Act, the President's efforts to keep federal student aid available and affordable, and his health care reform law.
"When it comes to the health of our families," the First Lady said, "Barack refused to listen to all those folks who told him to leave health reform for another day, another president. He didn't care whether it was the easy thing to do politically. No, that's not how he was raised. He cared that it was the right thing to do. He did it because in America, our grandparents should be able to afford their medicine. Our kids should be able to see a doctor when they're sick. And no one in this country should ever go broke because of an accident or an illness."
Then, to a raucous ovation, Mrs. Obama said "And he believes that women are more than capable of making our own choices about our bodies and our health care. That's what my husband stands for."
It was a wonderful performance by the First Lady, perhaps as everyone would expect from a woman of her extensive experience, but it will be interesting to see how the media's reactions to it compare with the gonzo enthusiasm generated by Ann Romney's speech at the RNC.
Here's the speech from MSNBC:
Have a tip we should know? tips@mediaite.com