First Person to Buy Legal Weed in Spokane Loses His Job After Being Seen on TV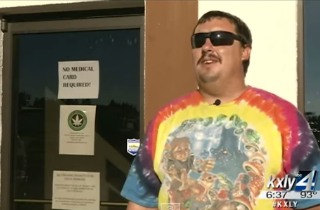 If you believe in legal marijuana, this man is a hero.
Mike Boyer became a local celebrity this week in Spokane, Wash., after KXLY reported on him camping out in front of the city's first marijuana dispensary, claiming his spot as first in line for when the shop opened on Tuesday.
He chants for the cameras: "What do we want? Marijuana. When do we want it? 2 p.m." And he calmly explains his consumer mission: "I'm here for sativa, some of the rarer of the herbs." After he made his purchase, he told the station he plans to go home, test out the strands, and take a nap. The very definition of a chill dude.
And then he got fired from his job. Why? Because a client spotted the TV report and narc'd by complaining to Boyer's employer, Kodiak Security Services.
But does Boyer even care? "It was kind of a buzzkill," he told Vocativ. "But I wasn't going to let it ruin an awesome day."
He's busy enjoying the claim to local fame: "I'm still the captain! I'm still number one! I mean, a man can always get a job. But a man can only be the first person to buy recreational cannabis in Spokane once."
And in keeping with the excellence we've come to know in the short time we've known Boyer, he threw up a resumé on Craigslist boasting this sweet credential:
I lost my job due to the news coverage of me being the FIRST PERSON TO BUY MARIJUANA LEGALLY IN SPOKANE! I regret nothing. But now im jobless and have decided to post my resume here. Thanks for reviewing it.
Someone get this man a job! Maybe even at the dispensary itself? Perfect spokesman.
Watch below, via KXLY:
[h/t Vocativ]
[Image via screengrab/KXLY]
— —
>> Follow Andrew Kirell (@AndrewKirell) on Twitter
Have a tip we should know? [email protected]