'First Shot Across The Bow': Fox's Kelly & Guests Take On GOP's Plan To Run Against Obama Scandals In 2014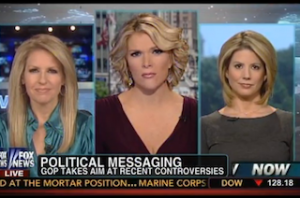 Conservatives have been riled up over the scandals surrounding Benghazi, the IRS and the DOJ over the last few weeks. But how much will these issues resonate with voters in the 2014 midterm elections? That's the question Megyn Kelly and her two guests attempted to answer this afternoon on Fox News.
Kelly began by playing part of a new ad from Sen. Mitch McConnell (R-KY), who has started his reelection campaign early despite that fact that a viable challenger has yet to emerge. As Kelly said, the video hits "the administration and the White House hard on the IRS scandal," even drawing out the Nixon comparisons. Looking forward to 2014, Kelly said, "this is going to get ugly before it gets nice again and this seems to be one of the first shots across the bow."
Monica Crowley said that precisely because the scandals have "traction" and McConnell does not yet have an opponent, "he is directing his fire to the White House, to the president, to the broader Democratic Party. And I think you're going to see more and more Republicans actually doing that."
Meanwhile, Kirsten Powers took some offense to way McConnell's ad took soundbites out of context, but thought that overall, it was "pretty effective." She added, "I think they will use these issues as something to really gin up the base. I think it's going to help them turn out, and most people who are watching the elections are seeing now an environment that going to be very favorable to Republicans probably."
Given all of that, Kelly questioned whether voters would even respond to an ad like McConnell's due to the fact that President Obama's approval rating hasn't dropped in the midst of these stories.
But, Powers countered, "it matters in terms of, if people don't trust the government that is bad for Democrats. If there is a climate where people are unhappy with Obama or feel that government isn't being run properly," then it will benefit Republicans in 2014. Especially when those Republicans are "ginned up" over the IRS scandal. She suggested that if it turns out that Obama was directly involved in the IRS situation, then that could change things. But, in the end, the president won't be on the ballot next fall.
Watch video below, via Fox News:
—
>> Follow Matt Wilstein (@TheMattWilstein) on Twitter
Have a tip we should know? tips@mediaite.com