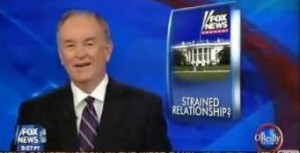 What we've known since about March is about to come true – Fox News is headed for its best ratings of all time this year.
As their competitors in cable news fall far behind, FNC looks toward the rest of the cable universe as its new competition – it finished in the top five on all of cable in prime time and total day. What was the reason for FNC's success? Heres' five reasons.
1: Glenn Beck: Beck's enormous success during his first year has helped FNC tremendously. His 5pmET show is up 96% in total viewers and a whooping 148% in the demo from what was in its place last year. But the most important factor for FNC as a whole is Beck's timeslot. By having the show on at 5pm, the network gets another hour of prime time-like ratings while still keeping its three prime time programs in place. It's a win-win – and as Beck continues his 100-year plan in 2010, it's a strategy that will likely continue to pay dividends.
2: Bill O'Reilly: The O'Reilly Factor has been the #1 show on all of cable news for 10 years now, in the demo and in total viewers. Year-to-year, O'Reilly improved as well – up 14% in total viewers and 29% in the demo. While FNC's all-star continues having his best year, their 9pmET host, Sean Hannity, has enjoyed his best year ever, going solo for the first time.
3: Pres. Barack Obama: FNC has, without a doubt, benefited greatly in the ratings from the election of Pres. Obama. It's hard to imagine how their ratings would look if Sen. John McCain was elected, but it's likely they wouldn't be nearly as strong. By playing the voice of opposition, FNC will continue their ratings success for the next three years – at least. But all of their programs were up in both categories, including their hard news shows at 3, 6 and 7pmET. While their opinion hosts drive the ratings, their viewers are interested in the news product as well.
4: Tea Parties: While the summer months generally see lower ratings, FNC was strongly helped – as their competitors, to some degree – by the tea parties that took place. It didn't just benefit the tea parties biggest drivers, Beck and Hannity, but from all the news coverage that came from the admittedly great media moments at the parties. Politicians and citizens fighting? Great TV, especially for the FNC audience. The FOX Report, Studio B and Special Report all had their best years ever in total viewers.
5: Stronger Weekends: The one area FNC was not the strongest network in the past was on the weekends, where CNN did news and MSNBC did doc block – to big ratings. With the addition of Mike Huckabee and the continued success of Geraldo Rivera (and Hannity/Beck repeats), the weekends have thrived as well.
– Broadcasting & Cable's Marisa Guthrie has more on FNC's ratings.
—–
» Follow Steve Krakauer on Twitter
Have a tip we should know? [email protected]