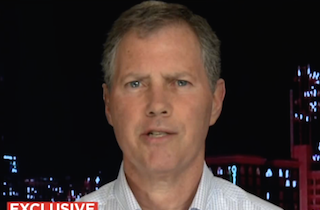 An employee for the Florida Department of Environmental Protection told MSNBC's Chris Hayes tonight that he was punished because he expressed his personal view on climate change and wrote the words "climate change" and "sea level rise" in his notes about a conference call on the matter. Bart Bibler's case got some attention this week after Public Employees for Environmental Responsibility shined a light on it.
They connected Bibler being put on leave to reports that Governor Rick Scott banned anyone in the government from mentioning the words "climate change" (a ban that Scott has denied exists).
Bibler explained to Hayes that he participated in a conference in which sea-level rise was a topic of discussion. He said he spoke out on the subject of climate change, expressed his personal views on stopping the Keystone XL pipeline because of its environmental impact. He ended up typing up notes from the conference and adding references to climate change and sea levels rising, and that did not sit well with the moderator.
He was ordered to revise the document, he did, and Bibler says he ended up getting a reprimand and being put on leave. And Hayes was particularly astounded to hear Bibler say he's been required to see a psychiatrist to sign forms to say he's fit to return to work because, as he again put it, he just spoke up about rising sea levels.
A DEP spokesperson told The Tallahassee Democrat that Bibler was just being unprofessional:
After multiple requests by his supervisor, Mr. Bibler failed to provide an accurate summary of the meeting, and instead responded in a disrespectful and argumentative fashion by simply providing an attachment with the "Keystone XL Pipeline" with a red circle and a cross through it.
Watch the video below, via MSNBC:
[image via screengrab]
— —
Follow Josh Feldman on Twitter: @feldmaniac
Have a tip we should know? tips@mediaite.com
Josh Feldman - Senior Editor