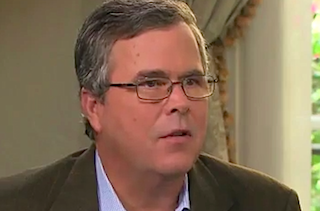 Former Florida Governor Jeb Bush raised some eyebrows Wednesday for attempting to distance himself from his brother, George W. Bush, during a Chicago speech, especially given the fact that he has hired a large number of Bush Administration advisers to guide him on foreign policy.
"I love my father and my brother. I admire their service to the nation and the difficult decisions they had to make," Bush said in the speech. "But I am my own man -– and my views are shaped by my own thinking and own experiences." He also admitted that "there were mistakes in Iraq for sure," but did not pin those mistakes directly on his brother.
For the most part, Jeb adhered to a promise he made during a 2010 joint interview with his brother on CNN's State of the Union with Candy Crowley. In the clip below, the former host asked Jeb to name his "biggest political disagreement" with George W., and he declined to answer.
"I am the only Republican that was in office when he was in office as president that never disagreed with him," Bush said at the time. "And I'm not going to start now," he said, adding, "'Til death do us part."
As George W. Bush put it, if they did disagree publicly, the news wouldn't be the disagreement, "the news would be the brothers, there's a schism with the brothers, and we love each other, and we're very close, and we wouldn't do this to each other."
Of course, those comments were made years before Jeb Bush was seriously considering a run for president in 2016. As his still-hypothetical campaign continues, he may find himself disagreeing with his brother in public more and more.
A new Quinnipiac poll of three swing states found that 39% of Colorado voters and 35% of Iowa and Virginia voters are less likely to vote for Jeb Bush because both his brother and father served as president.
When asked that same question about Hillary Clinton, only 24% of Colorado voters, 18% of Iowa voters and 21% of Virginia voters said they were less likely to vote for her because her husband was president.
Watch the 2010 video below, via CNN:
[Photo via screengrab]
— —
>> Follow Matt Wilstein (@TheMattWilstein) on Twitter
Have a tip we should know? tips@mediaite.com