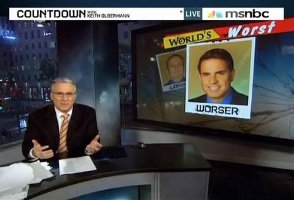 MSNBC's indefinite suspension of Keith Olbermann, while certainly shocking, seems to fall neatly into the pattern of celebrity firings that arguably began with Dave Weigel's relocation to Slate and has become the year's hottest media trend. As Olbermann is but the latest, he has had some bold words on some of the biggest incidents before Friday, most notably NPR's firing of Juan Williams and CNN's firing of Rick Sanchez.
It's relevant to note that neither Williams nor Sanchez were fired on ethical behavior grounds– they were fired for what they said, not because of anything they did, so there isn't a precise 1:1 equivalency between Olbermann's policy breaches and the aforementioned. Still, Olbermann's outrage at their words in light of his own transgressions– and the growing pile of evidence of misleading statements on his part, including this clip from 2008 where he claims not to vote to maintain objectivity– are worth taking a look at.
Olbermann had no mercy on Sanchez, particularly after his apology. In fact, it wasn't his statements about Jon Stewart and his CNN bosses but his apology that landed Sanchez on Olbermann's "Worsts" list for mincing words. Olbermann particularly objected to the phrase "may have offended"– rather than just apologizing for offending– and mocked Sanchez's comment that he was "looking forward to the next step": "your next step is an apology." For what it's worth, Sanchez tweeted yesterday: "Got to work w/ Keith when I was at MSNBC. He's a solid journalist. Hope this passes," following that up with a passive-aggressive retweet of a fan praising him for being much more gracious than Olbermann when Sanchez was fired.



Olbermann reacted similarly negatively to Williams upon his firing, calling him "obtuse" for his comments ("as if the 9/11 murderers were wearing turbans or something") and pointing out that Constitutional freedom of speech and freedom of expression within a private company are two different things. As campaign contributions are a judicially recognized form of expression, however, this knife cuts both ways (h/t New York/Jim Treacher):

As the Olbermann drama progresses, it will be interesting to see whether, upon breaking his silence, Olbermann addresses these comments and distances his experiences from Sanchez's or Williams in any concrete way. For now, the only inferences that can be made on Olbermann's take in all this must be taken from his previous reactions to similar situations.
Have a tip we should know? tips@mediaite.com