Keith Olbermann Told The View: Reason He Didn't Vote Was To Maintain Journalistic Objectivity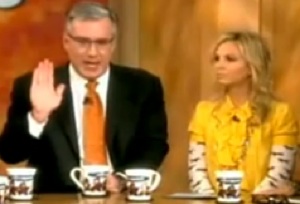 News broke Friday that MSNBC had suspended indefinitely Countdown host Keith Olbermann for breaking a company policy regarding campaign donations. Earlier, Politico reported that Olbermann had personally donated to three Democratic candidates, sparking a flurry of analysis and debate about the ethics of a self-described journalist advocating for one political party, and the pursuant slippery definitions of opinion media host and "capital J" journalist. But looking back at an appearance on The View Olbermann claimed that he didn't vote as a "symbolic gesture" designed to maintain journalistic objectivity.
The interview with The View occurred in the Fall of 2008, and at the time, the Huffington Post reported:
The ladies also pressed Olbermann on his decision not to vote.

"I don't vote," Olbermann said, saying it is the only thing he can do to suggest journalistic objectivity. "It's a symbolic gesture."

Watch as Joy calls him a bad role model for not voting, while Barbara says, "Forgive me, master…I just don't want to be the Worst Person this week."
The comment made to the hosts of The View stands in stark contrast to his statement made to Politico, that was reported as:
In his statement to POLITICO, Olbermann said he wasn't using his influence to solicit any donations for the candidates.

"I did not privately or publicly encourage anyone else to donate to these campaigns, nor to any others in this election or any previous ones, nor have I previously donated to any political campaign at any level," Olbermann said.

Inside MSNBC, employees were shocked at the news of Olbermann's suspension. Despite a reputation for a prickly personality off-air, Olbermann was given wide berth inside the network because of his stature – and his ratings.
Watch the clip below and note a happier time for Mr. Olbermann.
(H/T Breitbart.tv)
Have a tip we should know? tips@mediaite.com