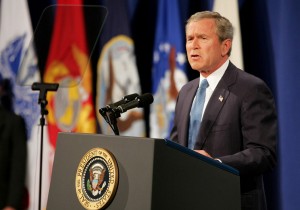 For all the talk about President Obama's White House squaring off against Fox News, it's easy to forget that it is essentially the job of any White House Press Secretary to mitigate the media's handling of the administration and "work the refs" — that is, complain a bit about bias or unfairness in the hopes that next time, they'll cut you a bit of slack. We're seeing it now, but let's remember that we've been here before, in the not so distant past, but on the other side of the aisle: President George W. Bush routinely called out NBC and MSNBC for failing to differentiate between "news" and "opinion."
On May 20th, 2008, Bush's Press Secretary Dana Perino fielded a question from Fox News about "the back-and-forth between you guys [the White House] and NBC News" about the semantic issue of calling battles in Iraq a "civil war." Perino, in proto-Robert Gibbs fashion, responded by stating, "We have not heard back from them on that specific matter. We anxiously await any response that we would get on it. But I think it's quite telling that they have been silent." DailyKosTV has video of the entire exhange.
Perino also spoke about NBC News unfairly editing the president's comments, referring to segments airing a few days prior about Iraq. The day before Perino's answer, Counselor to the President Ed Gillespie sent a letter to NBC News President Steve Capus insisting the network air the president's full remarks. He wrote:
This deceitful editing to further a media-manufactured storyline is utterly misleading and irresponsible and I hereby request in the interest of fairness and accuracy that the network air the President's responses to both initial questions in full on the two programs that used the excerpts.
Gillespie continued with a more pointed attack: "Mr. Capus, I'm sure you don't want people to conclude that there is really no distinction between the 'news' as reported on NBC and the 'opinion' as reported on MSNBC, despite the increasing blurring of those lines."
Hm… "deceitful," "fairness," "accuracy," "news" and "opinion" — it all sounds very familiar. This, of course, is only one example of eight years worth of jockeying. And then there's the response — we're seeing it now from Fox, but we saw it then from MSNBC!
MSNBC's Keith Olbermann was livid at the idea of the White House attacking the media, which he saw as an attack on Freedom of Speech, Freedom of the Press and Freedom of Dissent. Check out a vintage Olbermann special comment on the issue, below:
Have a tip we should know? tips@mediaite.com