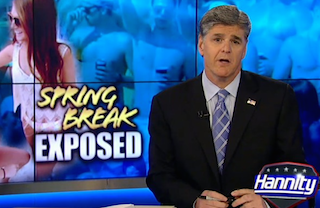 Fox News' Sean Hannity may be having a bigger impact on Florida's spring break scene than he ever could have imagined.
After airing a week of shows "exposing" the wild partying that occurs each year when college students travel south for a week, Panama City Beach residents reportedly starting packing community meetings to demand tighter restrictions on the party-goers. Last month, officials passed a series of new ordinances in response.
Now, according to yet another report from AL.com's Dennis Pillion, the local beach bar owners who had the most to gain from unfettered spring break debauchery, are lashing out at Hannity.
"This would have not been an issue had it not been for Hannity and his, you know, I call it an assault on the beach," Sparky Sparkman, owner of Spinnaker Beach Club, said in an interview. "College spring break was basically over when he did that, and he had a mission. He was on a ratings-seeking mission and he took advantage of us and blind-sided us. That's my view and I've been saying that for a long time."
Among the new ordinances are rules that state bars must close at 2 a.m. during March 2015 and that anyone drinking alcohol on the beach must carry a valid over-21 I.D. Another ordinance still in discussion would force club owners to erect large fences around their properties during events such as concerts.
"The college spring breakers, they're not ready to lay it down at 2 a.m.," Sparkman added. "You're going to put more people out in the street and that's not going to be good, I don't think."
Watch the video below to get a taste of Hannity's take on spring break, via Fox News:
[Photo via screengrab]
— —
>> Follow Matt Wilstein (@TheMattWilstein) on Twitter
Have a tip we should know? tips@mediaite.com