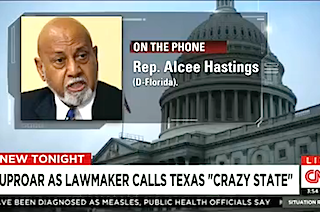 In the days since Rep. Alcee L. Hastings (D-FL) messed with Texas during a House Rules Committee hearing, he has become the target of nasty country song and the subject of a Daily Show segment on the immaturity of Congress.
But the man who called Texas a "crazy state" that he wouldn't live in "for all the tea in China" before saying Rep. Michael C. Burgess (R-TX) would have to wait until "hell freezes over" for an apology, kept right at it during a lively phone interview with CNN's Dana Bash on Thursday.
"One of their cities have a law that says women can only have six dildos and the certain size of the thing," Hastings told Bash, citing what appears to be a state-wide limit that was actually overturned in 2008. "And if that ain't crazy, I don't know what is." He also found it "absurd" that someone from Texas was planning to cancel their trip to Disney World based on his remarks.
Then, in a surprising move, Hastings took a shot at his home state. "Consider the fact I'm a native Floridan and dislike it," he said. "I wouldn't live in a lot of places, Texas happens to be one of them."
"I have cautioned about living in Florida and when I retire I'm not sure I'm going to stay there," he added.
Bash noted at the end of her report that this Congressional "war of words" could be worse. After all, no one has been beaten unconscious with a cane.
Watch video below, via CNN:
[Photo via screengrab]
— —
>> Follow Matt Wilstein (@TheMattWilstein) on Twitter
Have a tip we should know? tips@mediaite.com