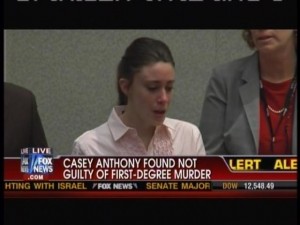 In the end, it only took jurors a matter of hours, not days, to decide Casey Anthony's fate. Jurors in the murder trial deliberated less than two days before announcing they had reached a verdict early Tuesday afternoon–finding Anthony not guilty of first degree murder, child abuse or manslaughter. Anthony was found guilty of providing false information to law enforcement. The verdict was announced in an Orlando courtroom just after 2:15 p.m., and was carried live on cable and broadcast news networks.
Anthony, 25, never took the stand in the case. Anthony was accused of killing her two year old daughter Caylee, whose skeletal remains were found in a swampy area not far from the Anthony family home in December 2008. Defense attorneys had argued the death was an accident, that Caylee drowned after climbing into the family's pool–and suggested Anthony's father, George, had been involved in lying about what happened and hiding the body.
Prosecutors argued for pre-meditated murder, suggesting in a dramatic closing argument that Anthony didn't want the life of a single parent:
"Something needed to be sacrificed, that something was either the life she wanted or the life thrust upon her. She chose to sacrifice her child," prosecutor Jeff Ashton told the jury.

"Her mother decided the life she wanted was more important."

"This murder was premeditated," added Ashton, showing the jurors the strips of duct tape placed over the little girl's face and photos of her skeletal remains. "There is no reason to put duct tape over the face of a child, living or dead."
In weeks of live coverage, the trial attracted millions of viewers, sending HLN–which devoted its entire schedule to the case–to the top of the cable ratings, on some nights defeating Fox News for first place. HLN's Nancy Grace, who has covered the case for years, was consistently among the most-watched people on television during the case.
Watch the verdict via Fox News:
Have a tip we should know? tips@mediaite.com