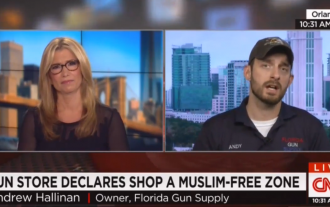 Step one: Be a Florida man. Step two: Make an online video with yourself posing in front of a Confederate battle flag. Step three: Declare your gun store a "Muslim-free zone" because you're a "true patriot." Step four: Get on CNN.
That's the route taken by Andrew Hallinan, who declared his Florida Gun Supply shop a "Muslim-free zone" after a Kuwait-born gunman killed four Marines and a sailor in Chattanoooga, Tenn., last week.
"I'm declaring Florida Gun Supply as a Muslim-free zone," he said in a video posted to Facebook. "I will not arm and train those who wish to do harm to my fellow patriots."
Oh, and look at that, he was on CNN this morning with Carol Costello, who confronted him for banning Muslims from his store.
Hallinan admitted he cannot realistically ask the religious background of every customer that comes through his store, but he does intend to use the power vested in him by the Bureau of Alcohol, Tobacco, Firearms and Explosives to weed out certain customers, because, as he told the host, "Islam is evil at its core." He added: "The Koran is built to establish a one-world order, a caliphate."
Asked whether he'd also ban white supremacists who pose in front of the Confederate flag — a la Charleston shooter Dylann Roof — Hallinan said his goal is to keep guns away from people who intend to do mass murder. "The vast majority of Muslims are peace-loving, normal, everyday Americans," he said. However, he does seek to ban any Muslims who "read the Koran exactly as it was written."
Watch the full interview below, via CNN:
[Image via screengrab/CNN]
— —
>> Follow Andrew Kirell (@AndrewKirell) on Twitter
Have a tip we should know? tips@mediaite.com