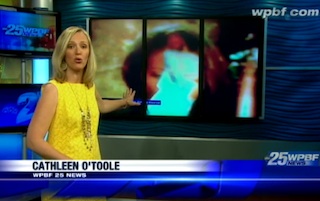 Some people watch ABC's venerable reality show The Bachelor for the romance. Some people watch it for the catty drama. And some people watch it because they know it's a train wreck and yet they…just…can't…look away. However, a Florida woman has all of those people beat because she claims that, when watching it, she saw an image of the Lord and Savior.
And, no, she's not just an incredibly devoted Chris Harrison fan.
Guerda Maurice, a woman from Port St. Lucie, was watching the show when she saw a tent in the background that she really liked. So she took out her cell phone began taking pictures of the TV.
From WPBF:
"'And with my third picture, my phone was vibrating and so warm, and very warm and hot like a burning smell,' said Maurice.

She said the phone malfunctioned and mysteriously enough started working again the next morning.

The pictures she took the night before left her dumb-founded. In her second photo, she sees an image of a man in robes. His hands are clasped and his head is topped with scarves or something else, she said.

'I flipped the phone and I see Jesus' picture,' said Maurice. 'And I said, 'Oh my God, where did this picture come from""
The best part of the WPBF segment is when they talk to Charles Beal, Jr. who apparently made the mistake of saying he only saw "an angel or a lady" in the photo. Apparently, his wife didn't take that too well. That's not surprising. Come on, Charles. You don't second guess a reality TV fan who is on a mission from God Himself.
Anyway, bless The Bachelor and may Jesus come to all of us one day, give us a rose, and take us on the greatest One on One Date of them all; Heaven.
Watch the segment from WPBF below:
Have a tip we should know? tips@mediaite.com